With the new EF 35mm F/1.4L II USM Canon introduced a newly developed camera lens optical element called Blue Spectrum Refractive (BR) that enables extremely high levels of chromatic aberration correction: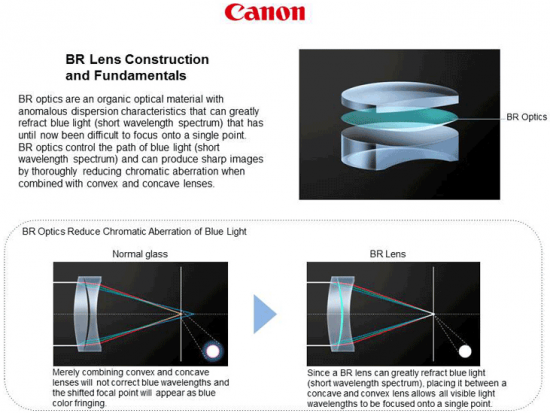 Additional information from the press release:
Canon has developed Blue Spectrum Refractive (BR), a new optical element for use in camera lenses that corrects chromatic aberrations at an extremely high level to achieve superb imaging performance.

The new Canon-developed BR optical element offers characteristics that significantly refract blue light, which lies within the short-wavelength range, to achieve impressive levels of chromatic aberration correction for outstanding imaging performance. The BR optical element, positioned between two glass lens elements to create a BR lens, will make its debut in the new EF 35mm f/1.4L II USM wide-angle fixed-focal-length lens, which is scheduled to go on sale in October 2015.

Natural light, or white light, comprises a spectrum of wavelengths, or colors, each of which realizes a unique refractive index when passing through a lens. As all colors do not converge on the same point, this disparity causes chromatic aberrations, or color fringing, to occur in an image.

Canon develops optical elements by reviewing organic optical materials, beginning with the design of molecular structures, with the aim of achieving optimal chromatic aberration correction that suppresses color fringing. With the successful development of the BR optical element, which offers unique light-dispersion characteristics that significantly refract blue light-a wavelength that, until now, had proven particularly difficult to converge to a specific focal point-Canon is able to develop lenses that result in outstanding imaging performance by correcting chromatic aberrations at an exceptionally high level.