Today Fujifilm announced a new Instax Mini 70 camera ($139.95). Why? Because the Fuji Instax cameras are one of the best sellers on Amazon and the company reported a strong growth for that product line in their latest (2015) annual report: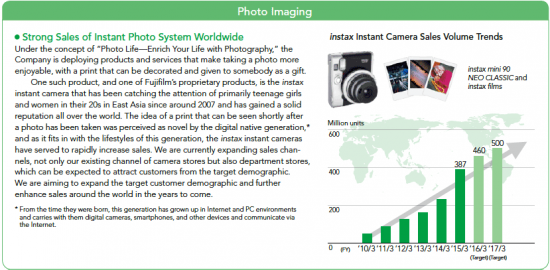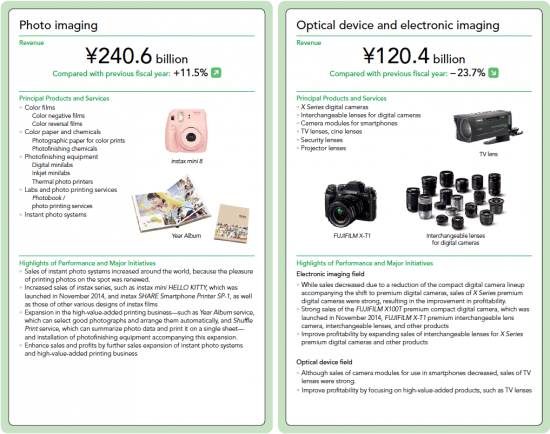 What's new in the Instax Mini 70 camera:
"The easy and fun INSTAX Mini 70 offers exciting features and enhancements, including: an improved viewfinder for enhanced subject viewing; automatic exposure and flash functions for sharp pictures, a high-key mode that enables users to take brighter photos, and a smart selfie mode that automatically adjusts settings for perfect selfies using the front-facing selfie mirror. The Mini 70 also has a tripod mount for amazing up-close shots and clear landscape photos. With the Mini 70, users can count on beautiful, sharp images that are truly one-of-a-kind to instantly share with family and friends."
Instax Mini 70 camera specifications:
instax mini 70
Film
FUJIFILM instant color film 'instax mini' (sold separately)
Film size
86mm x 54mm
Picture size
62mm x 46mm
Lens
Retractable lens, 2 components, 2 elements, f = 60 mm, 1:12.7
Viewfinder
Real image finder, 0.37 x, with target spot
Focusing
Motor-driven 3-range switching (0.3 m - 0.6 m/0.6 m - 3 m/3 m and beyond),
Macro Mode (0.3 m - 0.6 m), Normal Mode (0.6 m - 3 m), Landscape Mode (3 m and beyond)
Shutter release
Programmed electronic shutter release, 1/2 sec - 1/400 sec.
Exposure control
Automatic, Interlocking range (ISO 800) : LV 5 - LV 15.5,
Exposure compensation (Hi-Key): +2/3 EV
Flash
Built-in, automatic electronic flash, Charging time: 0.2 sec - 7 sec (using a new battery), Flash charging indicator, Fill-in Flash Mode, Effective flash lamp range: 0.3 m - 2.7 m
LCD display
Exposure counter (number of unexposed films), Shooting mode (Selfie, Macro, Landscape, Fill-in Flash, Hi-Key, Auto), Self-timer Mode (1 frame/2 frames continuous shooting)
Power supply
Two CR2/DL CR2 lithium batteries
Capacity: Approximately 40 INSTAX mini 10-pack film packs with new CR2/DL
CR2 lithium-ion batteries
Items included
Hand strap, strap ring, warranty document, User's Guide, 2 CR2 lithium-ion batteries
Dimensions & weight
113.7mm x 99.2mm x 53.2mm
281g (excluding the batteries, strap and film)
The full press release can be found here.