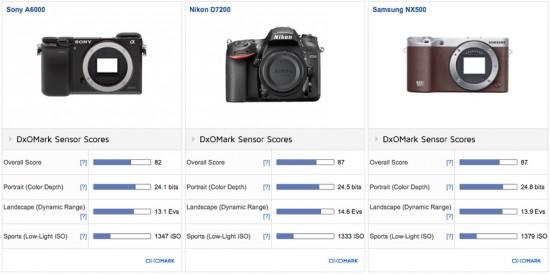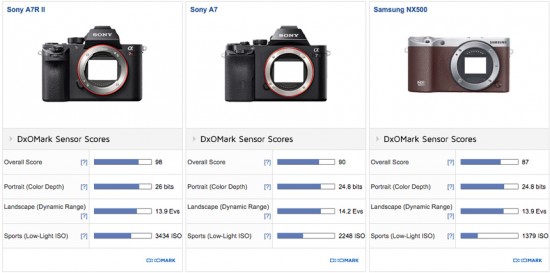 DxOMark published their test results for the Samsung NX500 mirrorless camera ($599) and described it as the "new leader for hybrid APS-C sensor image quality":

"With the same overall DxOMark score of 87 points, we can say that the Nikon D7200 and Samsung NX500 offer essentially comparable image quality for RAW files. The Nikon D7200 offers around two-thirds of a stop better Dynamic Range at ISO 100, for instance, which narrows to around one-third of a stop by ISO400. The D7200's Dynamic Range remains around one-third of a stop ahead of the NX500 between ISO 400 and ISO 12,800, with results the same at ISO 25,600.

Conversely, although the Samsung NX500 is ahead of the Sony A6000 for Dynamic Range at lower ISO sensitivities, results converge by ISO 400, with both models displaying similar Dynamic Range between ISO 400 and ISO 6,400.

So while the NX500 boasts similar scores for Dynamic Range at ISO 100 compared to the A7 and A7R II, both Sony models jump ahead from ISO 400 onwards. In fact, the higher-resolution 42Mp Sony A7R II pulls away sharply as ISO is increased, resulting in around a two-stop advantage for Dynamic Range at higher sensitivities."