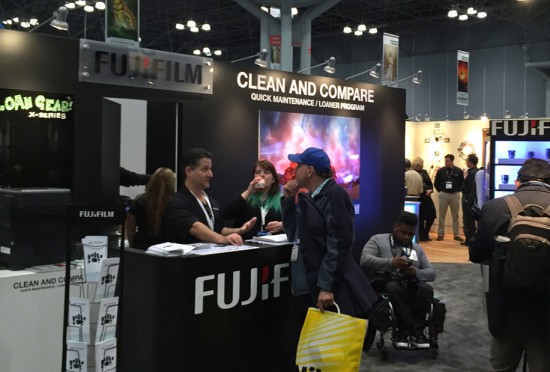 Photographybay reports that the upcoming Fuji X-Pro 2 camera will be announced in January, 2016:
"On the camera side of things though, the X-Pro2 should arrive at CES 2016 in January with availability in February 2016 and will be more advanced than the Fuji X-T1. This will mark the four year anniversary of the Fuji X-Pro1 announcement (at CES 2012) and Fuji acknowledges that the X-Pro1 is getting long in tooth – especially when you consider the continual firmware advances that some of the latest Fuji cameras have received."
There are also rumors of a new Fuji full frame camera that will be announced after 2016:
"Additionally, more info from the same source Fuji will release a full frame sensor camera in the future (after 2016). I'll believe the full frame sensor bit when I see it; however, I mention this as something to file away for future corroboration."
Picture: Fuji booth at the 2015 PhotoPlus Expo (credit: ZoetMB).