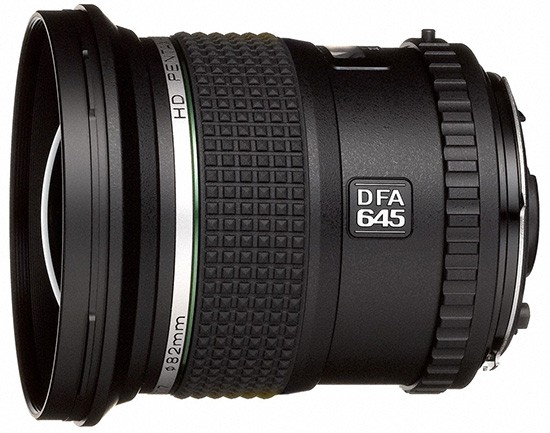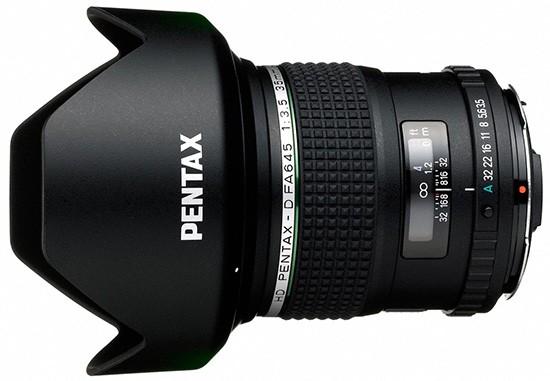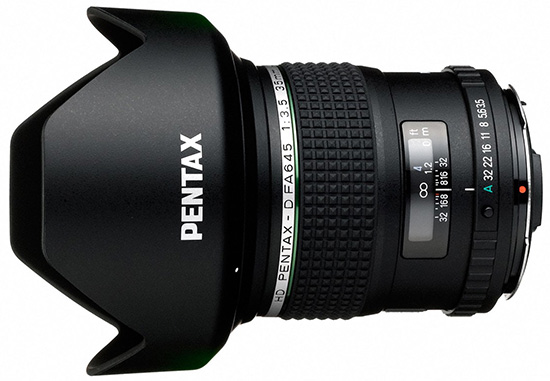 Ricoh announced the previously rumored HD Pentax-D FA 645 35mm f/3.5 AL IF medium format lens. The price is £1,549.99 / $1,096.95. Shipping starts in mid December 2015. For comparison, here is the current Pentax smc FA 645 35mm f/3.5 AL IF version: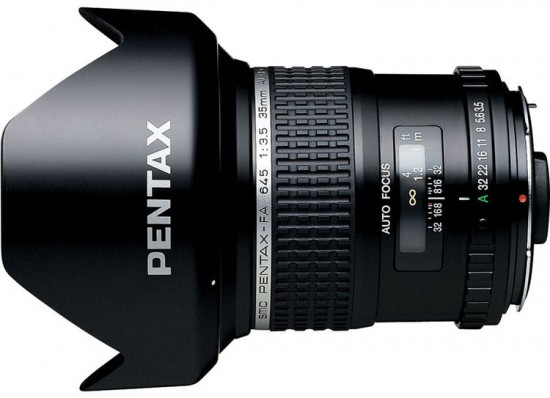 Additional HD Pentax-D FA 645 35mm f/3.5 AL IF lens details:
Optical design supporting super-high-resolution images captured with medium-format DSLR cameras
Combining a newly designed, high-grade glass-moulded aspherical element with a high refractive index low dispersion glass element and a hybrid aspherical element in its optics, this lens effectively compensates for chromatic and spherical aberrations. It also assures a sufficient peripheral brightness level, while enhancing image resolution and crisp image description at edges of the image field. The lens coating and reflective material used for the interior of the lens barrel are optimized for the distinctive characteristics of digital imaging. This allows it to draw out the optimum performance of PENTAX medium-format DSLR cameras, while minimizing flare and ghost images.
Wide-angle perspective – perfect for scenic photography
This lens provides a focal length of 27.5mm (in the 35mm format; when mounted on a 645Z or 645D camera body) to capture wide-angle landscape and architectural images. With a minimum focusing distance of 0.3 metres and a maximum magnification of 0.25 times, it can also be used for close-up photography, allowing the photographer to capture subjects, like flowers, while retaining the scenery in the background to emphasize the sense of depth. Its inner-focus mechanism keeps its total length unchanged during focusing, and allows the user to maintain the ideal balance during handheld shooting.
HD Coating for high-resolution images
This lens is treated with the PENTAX-original, high-grade HD Coating.* Compared with conventional multi-layer coatings, this innovative coating assures higher light transmittance and lower reflection to deliver bright, high-contrast images free of flare and ghost images, even in demanding lighting situations
* HD stands for High Definition.
Rounded diaphragm for a beautiful bokeh effect
This lens features a nine-blade, rounded diaphragm to produce a smooth, beautiful bokeh (defocus) effect, while minimizing the streaking effect of point light sources.
Other features
Image circle covering the entire image size of 645-series film-format SLR cameras
SP (Super Protect) Coating applied to the front surface of the lens to effectively repel water and grease
Attachment of various filters, such as a C-PL (circular polarising) filter, to the front end of the lens
PL filter window for easy control of a polarising filter without requiring the removal of the lens hood
Specifications
Focal Length
35mm
(Equivalent in 35mm format )
27.5mm (with 645D/Z body)
21.5mm (with film 645 body)
Maximum Aperture
F3.5
Minimum Aperture
F32
Lens Construction
10 elements in 7 groups
Angle of View
76°(with 645D/Z body)
90°(with film 645 body)
Lens Mount
645AF
Minimum Focusing Distance
0.3m (1.0 ft)
Maximum Magnification
0.25x
Filter Diameter
82mm
Diaphragm Control
Fully automatic
Number of Diaphragm Blades
9
Rounded aperture (F3.5-7.1)
Lens Hood
PH-RBE82
Lens Cap
O-LC82
Lens Case
S120-150
Maximum Diameter x Length
Approx. 88mm x 90mm (3.5 inch x 3.5 inch)
Weight
Approx. 570g / 20.1 oz. (with hood Approx. 610g / 21.5 oz.)
Bundle
Case, Hood, Lens cap, Lens Mount cap
Sample photos:
MTF charts: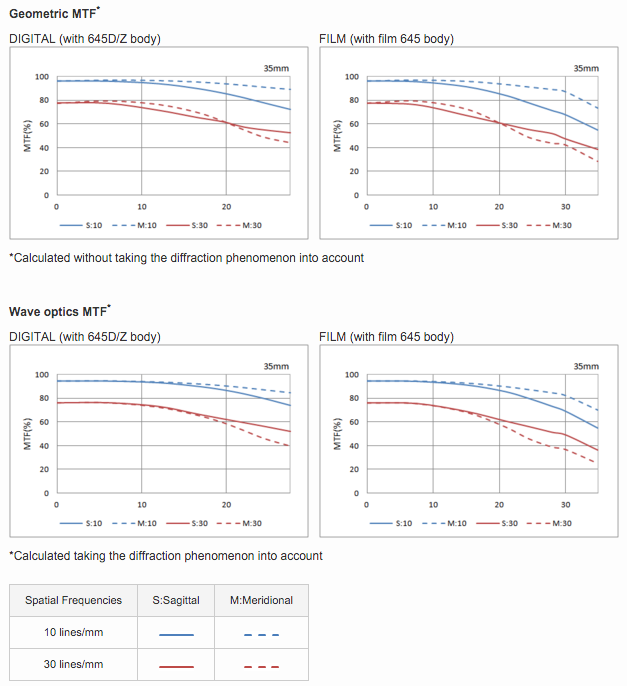 Lens design: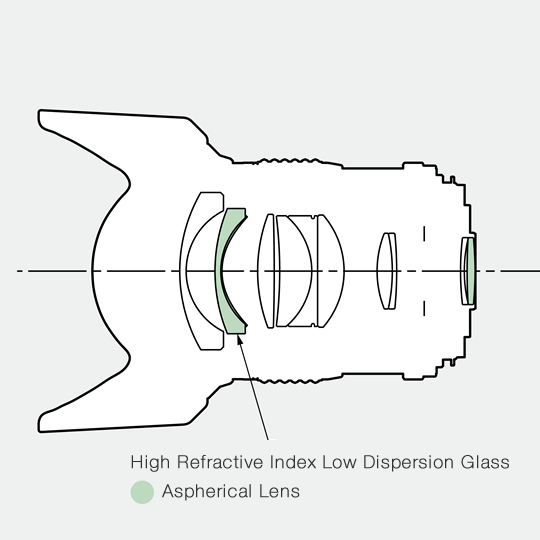 Please note that this lens is not officially announced in the US yet. The US price is $1,096.95.