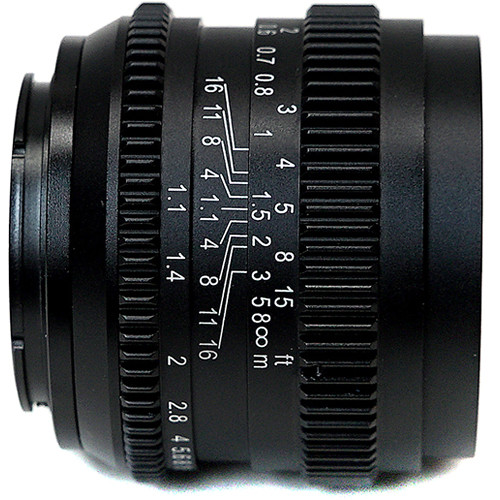 SLRMagic announced a new 50mm f/1.1 lens for Sony FE-mount. The US price is $349 (available for pre-order). Additional information:
Full frame lens
Aperture range: f/1.1 to f/16
Cine geared focus and aperture rings
Clickless iris ring
13-blade circular aperture
52mm filter thread
6 elements in 5 groups
Lens front does not rotate during focusing
The new lens is currently on display at the InterBEE show (Atomos booth #3404, hall 3).
Additional pictures:
Hong Kong, China (November 17, 2015) – SLR Magic begins its FE-mount lineup with the SLR Magic CINE 50mm F1.1 standard angle lens. The product will be officially introduced during upcoming InterBEE 2015 fair in Tokyo.
The field of view of this new lens corresponds to a 50mm lens in 35mm format and this fast standard angle of view opens up many new creative composition opportunities, particularly in the fields of portrait, interior, architectural and landscape cinematography and photography. Additionally, a fast max aperture of F1.1 makes the SLR Magic CINE 50mm F1.1 ideal for available-light photography.
We place our highest priority in the development on our lenses to fulfill the demands of professional cinematographers and photographers. The design and build of the SLR Magic CINE 50mm F1.1 is solid and reliable.
The SLR Magic CINE 50mm F1.1 (MSRP: $349 US/ $1,999 RMB) will be available from authorised SLR Magic dealers starting beginning of December, 2015.
The SLR Magic CINE 50mm F1.1 will be first presented at InterBEE 2015 fair. There would be a demo at the ATOMOS booth in (No. 3404, Hall 3) during the fairs which are to be held in Tokyo from 18th to 20th of November 2015.  For visitors at InterBEE fair, we welcome you to drop by and try.