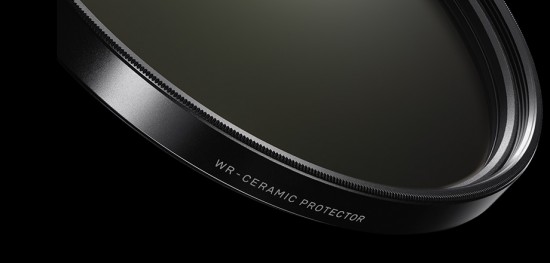 Sigma announced the world's first protective lens filter made of clear glass ceramic:
This shock- and scratch-resistant Clear Glass Ceramic was developed specifically for Sigma in partnership with a glass manufacturer. Made with a special heat treatment that evenly precipitates microcrystalline spinel throughout the materials, the Clear Glass Ceramic is 10 times stronger than a conventional protective filter and three times the strength of a chemically strengthened filter. The lens protector also contains WR coating, which repels water, dust and oil, and allows fingerprints to be easily removed. This enhanced protection helps to preserve the lens and ensure long-term, top-notch image quality.


Key features of the WR Ceramic Protector include:
Scratch-resistant – Sigma's Clear Glass Ceramic offers a Vickers hardness number of 700HV. The strength of the Clear Glass Ceramic is much stronger than chemically strengthen glass and is; 10 times stronger than conventional filters
Thinner and lighter – This new protector is up to 50 percent thinner and is up to 30% lighter than previous Sigma filters
High transmittance – Sigma's Clear Glass Ceramic offers very high transmittance, making it ideal for use as optical glass
Water- and oil-repellent coating – The water repellent coating reflects only 0.24 percent of visible light, thereby minimizing flare and ghosting. Its ability to repel both water and oil is also excellent, with water drops bouncing right off, and fingerprints easily to remove
Additional information can be found here.