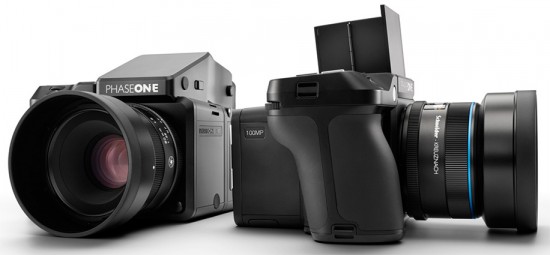 Phase One announced a new XF 100MP medium format camera (priced at $48,990 with 80mm LS lens):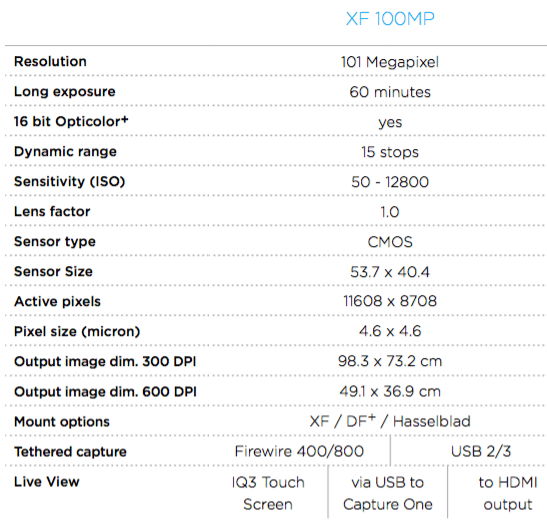 100MP Full Frame Medium Format CMOS sensor (joint sensor development and optimization between Phase One and Sony):
We've always strived to offer our customers the ultimate photographic flexibility. We were the first to offer Full Frame Medium Format CCD systems and now we're proud to be the first to offer a Full Frame Medium Format CMOS solution. The Phase One XF 100MP Camera System offers the same great advantages of full frame usability with the added benefits of CMOS. No lens crop factors, no focus screen masks, just uncompromised image quality from edge to edge.

Phase One and Sony have been development partners for years, the 50MP sensor being the first milestone of our cooperation, now found in the XF IQ3 50MP. Creating the full frame sibling to the 50MP CMOS system has been a top priority of Phase One for years. We're proud to now deliver a solution that achieves the image quality requirements Phase One customers expect, all while providing the performance advantages inherent to 100MP CMOS sensor technology. Phase One sensor experts have been working hard to optimize the complete use of the 100MP sensor for the worlds most demanding photographers.
Phase One Color Perfection:
In striving for excellence, Phase One takes everything under consideration. Professional Color Management and Digital Photography are as essential as the hardware when it comes to perfect results. Phase One's own Image Professor, Niels Knudsen and his team have worked for decades perfecting the color response of Phase One hardware and ensuring that not only accurate colors are delivered but that customized, pleasing and dynamic file render are emphasized. The Phase One Color is not just a science but a passion that runs deep at Phase One.
16 bit analogue feel:
For quite some time Digital Photography has surpassed analogue films in terms of resolution, ISO and Dynamic Range, but often at the sacrifice of one feature for another. Manufactures and engineers continue to strive towards reproducing the textures and tonal feel inherent to analogue photography while maintaining all possible benefits of digital photography. At Phase One this pursuit has always been central to what defines ultimate image quality. With the introduction of 16-bit Color Depth, coupled with CMOS ISO flexibility, the XF 100MP delivers a natural texture and tonal feel never before seen in digital camera system. For photographers striving for perfection, 16-bit Color is an essential addition to the versatility and resolution of the XF 100MP Camera System.
15 stops of dynamic range:
The Phase One XF 100MP Camera System delivers an unparalleled 15 stops of dynamic range, retaining unmatched detail in both highlights and shadows. This is the highest performing system in terms of dynamic range that the Medium Format world has to offer. The Phase One XF 100MP Camera System is engineered to provide the detail and unmatched quality,demanded by the worlds leading photographers.
Lossless and Intelligent compression:
With the Phase One XF 100MP Camera System there are three user selectable formats: IIQ L-16bit, IIQ L and IIQ s. Both IIQ L-16bit and IIQ L are lossless compression formats, capturing 100MP resolution in 16-bit and 14-bit color depth respectively. The IIQ s format is exclusively developed, and has been optimized by Phase One for more than a decade. Image data is analyzed on the fly to provide 33% to 25% file compression sizes while retaining full resolution and impeccable image quality at a near lossless, 14-bit, compression. With the launch of the XF 100MP Camera System, we are proud to report the IIQ s file format has been refactored to provide results that are even better than before.
Clean ISO from 50 – 12800:
By combining new sensor technology and years of experience in noise suppression through Capture One software, the Phase One XF 100MP ISO range delivers unparalleled creative freedom and performance in all shooting conditions. With a previously unthinkable base ISO of 50, the Phase One XF 100MP delivers the flexibility of longer exposures and unrestricted use of fast lenses, all while providing the cleanest possible results. Expanding on CMOS technology, the XF 100MP can offer higher ISO versatility and, with Capture One software, retain excellent noise suppression and file render.
60 minute exposures:
The new XF 100MP System delivers extreme long exposures of up to 60 minutes in full 100MP resolution. The IQ3 100MP is yet again the first of its kind to offer such flexibility in a creative tool. With no compromise in ISO flexibility and exposure limitation, all available on a full frame CMOS sensor, the possibilities for top photographers are endless.
1/1600 flash sync Leaf shutter lenses:
With an integrated Leaf Shutter, the range of Schneider Kreuznach lenses has flash synchronization speeds of up to 1/1600th of a second, something impossible for alternative Medium Format systems. Photographers can easily overpower ambient light using flash, providing complete control of the subject and assisting in freezing motion, as well as creating beautiful lighting effects.
Electronic First Curtain Shutter:
Continuing on our path to provide uncompromised image quality, we are pleased to provide EFCS technology with the Phase One 100MP Camera System. The addition of "Electronic First Curtain Shutter" to the XF 100MP Camera System means a further reduction in adverse vibration effects on high-resolution images. The benefit of EFCS is a significant reduction in camera vibration as it allows less mechanical dependency, which greatly improves sharpness when using shutter speeds that demand the steadiest conditions. The EFCS is worry free as it automatically activates when using Vibration Delay or activating Mirror Up. With such a significant increase in resolution, we're proud to provide the tools and technologies that ensure the best image quality is delivered.
Precise Honeybee Autofocus Platform:
HAP-1 is designed from the ground up with a custom processor coupled with a dedicated high-resolution CMOS sensor. This combination creates a unique floating-point architecture and a fully programmable interface, HAP-1 is easy to expand, update and customize. HAP-1 was engineered and designed with resolution advancements, and future technology growth, in mind. We're certain the HAP-1 system will buzz with the new XF 100MP Camera System straight out of the box.
Extensive Vibration Reduction:
Vibration reduction is certainly important for sharp images, but increases in importance at an exponential rate when resolution increases and pixel size decreases. The XF 100MP Camera System benefits from advanced Vibration Reduction Communication throughout the entire system to ensure that the right tools are used at the right time, ensuring crisp, clean and detail rich images with each capture. The entire XF Camera System is key to ensure the full potential of your 100MP resolution is met.
More information available at phaseone.com (download brochure)