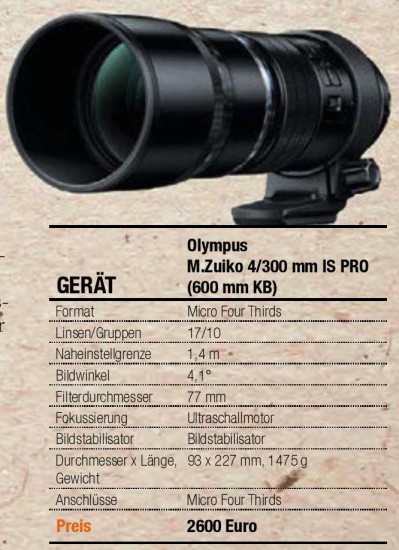 Some additional specifications and pictures of the upcoming Olympus M.ZUIKO DIGITAL ED 300mm f/4 IS PRO lens:
By coordinating the lens in the camera shake correction and the body in the camera shake correction to correction it is equipped with a "5-axis synchro camera shake correction". In combination with the OM-D E-M1 / E-M5 Mark II, correction effect six stages. Four stages of the correction effect in lens only.
Lens arrangement 17 sheets 10 group (three Super ED lens, one E-HR lens, three HR lens).
Backlight at the time of the ghost, and adopted a new coating "Z Coating Nano" to significantly reduce the flare.
Total length 227mm (hood when using 280mm). The maximum diameter of 92.5mm.It weighs 1270 grams (1475 grams in the tripod sit). Dust and water specification that has been subjected to 17 locations sealing. Low-temperature performance of -10 ℃.
Tele Macro function of the shortest photographing distance 1.4m. Maximum magnification is 0.24 times (MC-14 0.34-fold during use).
It is equipped with a "manual focus clutch mechanism". Focus limit switch, with a L-Fn button.
Iris feathers nine (circular aperture).
Filter diameter of 77mm.
Built-in lens hood can be fixed sliding that is stretched. Quick shoe detachable tripod mount that the correspondence of rail mounted.
Manufacturer's suggested retail price of ¥ 370,000 (including tax ¥ 399,600). Estimated retail price of ¥ 290,000.
Release date is scheduled in late February 2016.
Google tanslation via Digicame-info
See what else to expect in early 2016 (CES and CP+ shows).