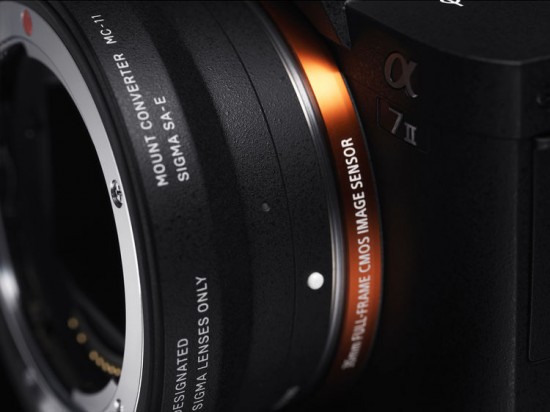 Additional coverage on the newly announced Sigma MC-11 AF electronic E-mount adapter (US price: $249):
Main features:
Adapt Canon EF-Mount Lens to Sony E Body
Integrated LED Displays Compatibility
Maintains Autofocus and Auto-Exposure
Supports In-Camera Correction Features
Flocked Interior Reduces Reflections
Retains EXIF Data
Sigma USB dock compatible
Product details:
The Sigma MC-11 Converter is a revolutionary product designed to allow compatibility between Sony FE and APS-C cameras and Sigma Canon EOS mount and Sigma mount lenses. Utilizing the latests technology, the MC-11 supports fast and accurate autofocus and will work in conjunction with in-camera stabilization and in-lens stabilization. An LED display on the adapter show the user if their will work in conjunction and the MC-11 is also updatable with Sigma's USB docking station. Flocking inside of the converter allows the image to be maintained while the internal electronics record all data from the image for later review. Like all SGV products, each lens is hand crafted in our single factory in Aizu Japan, individually inspected before shipping and offer a 4 year USA warranty.
Currently there are 19 interchangeable Sigma lenses available for Sony E-mount camera bodies:
Camera
Converter
Lens
Sensor Size
Sigma Lens
a7 series
NEX series
a5000 series
a6000
MC-11
35mm (Full Size sensor)
24-35mm F2 DG HSM | Art
24-105mm F4 DG OS HSM | Art
120-300mm F2.8 DG OS HSM | Sports
150-600mm F5-6.3 DG OS HSM | Sports
150-600mm F5-6.3 DG OS HSM | Contemporary
20mm F1.4 DG HSM | Art
24mm F1.4 DG HSM | Art
35mm F1.4 DG HSM | Art
35mm F1.4 DG HSM | Art
50mm F1.4 DG HSM | Art
APS-C
17-70mm F2.8-4 DC Macro OS HSM | Contemporary
18-35mm F1.8 DC HSM | Art
18-200mm F3.5-6.3 DC MAcro OS HSM | Contemporary
18-300mm F3.5-6.3 DC MAcro OS HSM | Contemporary
50-100mm F1.8 DC HSM | Art
30mm F1.4 DC HSM | Art
Not required
19mm F2.8 DN HSM | Art
30mm F2.8 DN HSM | Art
60mm F2.8 DN HSM | Art
30mm F1.4 DC DN | Contemporary
You can see the AF speed of the adapter in this video:
Sigma MC-11 intro video:
From dpreview – Sigma MC-11 adapter is world's 1st to offer full range of AF modes on Sony E-mount: