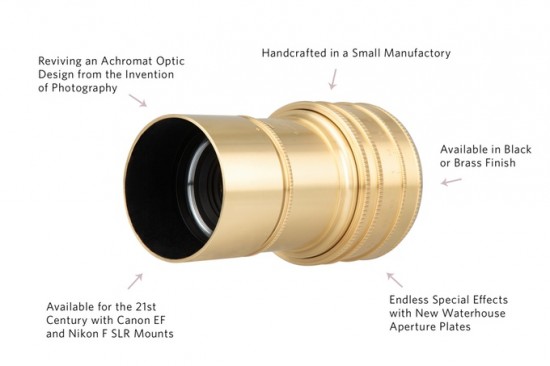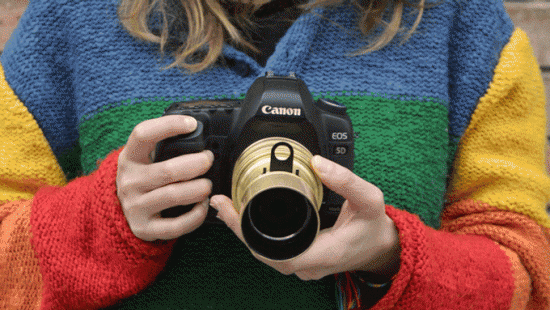 Lomography has a new Kickstarter project for a Daguerreotype Achromat 2.9/64 Art lens for Canon EF and Nikon F mounts:
Lens technical information:
Focal Length: 64mm
Maximum Aperture: f/2.9
Apertures: Waterhouse aperture set, up to f/16
Lens Mounting Profile: Canon EF or Nikon F
Closest Focusing Distance: 0,5m
Focusing Mechanism: helicoid
Image circle: 44mm
Field of view: 37 degrees
Filter Thread: 40.5mm
Electronic Contacts: No
Construction: 2 elements in 1 group
From the press release:
The Ethereal Aesthetics Of The World's First Optic Lens

Practical photography was invented in 1839, with the combination of a Chevalier Achromat Lens attached to a Daguerreotype camera. The signature character of the Chevalier lens bathed images in an alluring veil of light, due to a series of beautiful "aberrations" in its image-forming optical system, which naturally caused a glazy, soft picture at wide apertures.
The Daguerreotype Achromat 2.9/64 Art Lens by Lomography is a revival of this lost aesthetic. Today, more photographs are taken every two minutes than humanity took in the entire 19th century. In this pixelated era, Lomography believes in keeping the magic in photography alive with this dreamy, ethereal aesthetic.

Highly Versatile Tool For Modern Day Cameras

Photographers and videographers can delve into an extensive variation of moods and special effect: silky soft focus at f/2.9, crisp sharp shots from f/5.6 onwards, and a focal length of 64mm. The Daguerreotype Achromat Lens works with a Waterhouse Aperture Plate system, which allows full creativity with depth of field and bokeh effects. Asides from the classic Waterhouse Aperture plates, for this lens, Lomography has created two entirely new sets. The Lumière aperture plates soak images in a radiant, soft glow. The Aquarelle aperture plates blend colors to produce a textured, painterly effect – rarely achieved in photography.

Premium Quality Craftsmanship Of The Art Lens Family

The Daguerreotype Achromat 2.9/64 Art Lens has been designed by Lomography's expert technicians based on the historic 1839 design – and condensed into a bold brass lens for modern analogue and digital cameras – available in Canon EF and Nikon F mounts, and compatible with multitudes of other cameras using adapter mounts, such as the Sony Alpha series, Fuji X-Pro 1 and Micro 4/3 Cameras. The lens is handcrafted at a small manufactory in Central China, on the banks of the Yangtze river. The lens comes in a beautiful brass or black finish, and boasts the premium optic quality that we bring to every lens in the Lomography Art Lens Family – following in the steps of the Lomography New Petzval 85, New Russar+, Lomo LC-A Minitar-1, The Petzval 58 Bokeh Control and Lomography New Jupiter 3+ Art Lenses.

Proud To Be Back On Kickstarter

Lomography loves crowdfunding, and involving its active community with creative projects from the earliest stages of their conception. We are greatly thankful for the success of our previous Kickstarter campaigns: the Lomography Smartphone Film Scanner, the New Petzval 85 Art Lens, the first Lomo'Instant Camera and the Petzval 58 Bokeh Control Art Lens. The Daguerreotype Achromat 2.9/64 Art Lens is available through Kickstarter, where in addition to exclusive offers and prices, backers can secure their very own Daguerreotype Achromat Lens from the first ever batch – estimated to start shipping in August of this year.