Canon EOS-1D X Mark II
Just couldn't spend enough time on this pro press-grade shooter, nor could I get any original image samples due to lack of CF/CFast cards.  Unfortunately, throughout the entire program, Canon HK only supplied ONE single CFast (64GB) card for the pro speakers presentation seminars (more on below) but not in the main showcase venue, so customers hoping to witness the power of CFast were all out of luck.
One of the booths inside the main venue involved the 1DX-II's 4k video demonstration, but I didn't pay much attention to it.  In other booths, some 1DX-II were attached with premium "white" (long telephoto) lenses in various flavors, which kept some visitors happy as this kind of  experience is not always possible (even at the showroom, where the 1DX-II has not made its appearance yet as we speak).
For the local media who sampled the camera earlier, their focus was on the trivial matters: overall build quality and differences from predecessors; 4k recording capability (and perhaps quality, if they ever have the real "beef" to critique that); continuous shooting speed; and high sensitivity performance.  All these do require huge amounts of time with the camera, which I obviously did not during the roadshow program.  Nevertheless I'm impressed by its overall build quality, durability, and performance, albeit with a few small criticisms.  For instance, unlike Nikon's D4/4S/5/500 the 1DX series do not feature back buttons illumination for effective low light usage.  Then there's the amber-colored LCD backlighting carried over from the previous 1DX.  While the blue backlighting feels much better, the same can't be said on the amber one in that the display lacks quite some contrast in viewing.  Canon staff later told me the change in illumination color was for those who are into astrophotography where the blue EL might cause some trouble to the shooters.  Meanwhile, the AF selection button next to the vertical shutter release is not properly secured within the indented crescent, and is a bit too close to the sloped edge.  The touchscreen feature is quite a waste on the pro models, as touch operation is limited to image selection, magnification, and perhaps touch focus selection.  But although that's understandable, there's one more thing to worry about during maintenance, ie. the touch panel.  Other bodily improvements include the redesigned joystick buttons which come with more checkered areas which yield less thumb pinching (unlike the previous 1DX).  There's also a secondary remote terminal on the vertical grip area, something Nikon has never implemented on its own pro models (correct me if I'm wrong).
As for memory card selection, IMO the use of CFast is more than appropriate and, despite being a Nikonian, I hope Canon would continue to implement it on other pro-grade models (eg. 5DIII successors).  Personally I'm convinced by its performance, and that there's really no point to jump from the IDE-based CF directly to the PCIe-based XQD; SATA3 is just fast enough.  And then there's always the familiar form of the usual CF card, except for the SATA terminals.  Except one thing: heat generation, as the warning label on the memory card door cautions against the card's excessive heat during usage.  (That said, I'm not sure if XQD suffers from any overheating issue during coarse usage esp. with video recording.)
There's no on-site offers/discounts on the 1DX-II, although a web store offer is available, at HK$45,280 (body only) ($5835) bundled with one Sandisk Extreme 128GB (not the 64GB elsewhere) CFast card and Sandisk's dedicated card reader.  An LP-E19 spare battery costs $1242.
Canon PowerShot G7X Mark II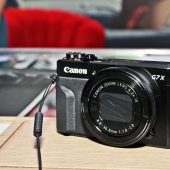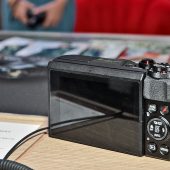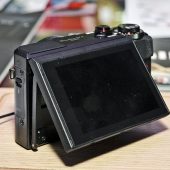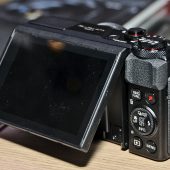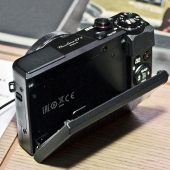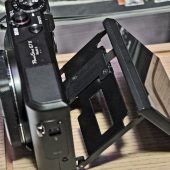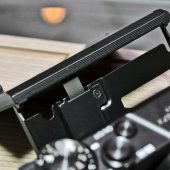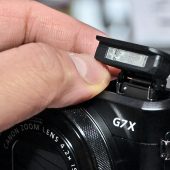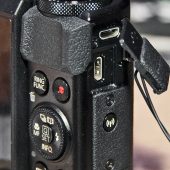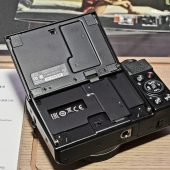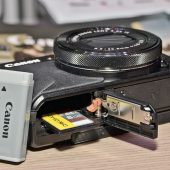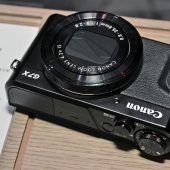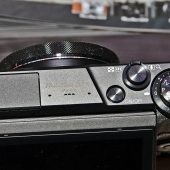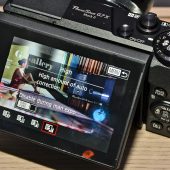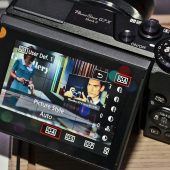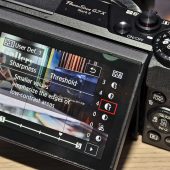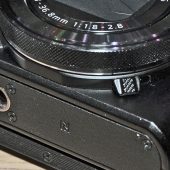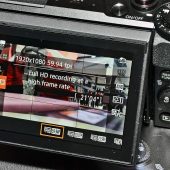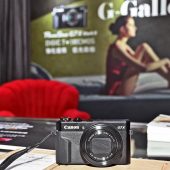 Overall a fine but not perfect update to the previous G7X in various disciplines, in that certain weaknesses from the predecessors do get carried over.  That includes the dual-deck mode/EV dials which are still sticky.  Turning the EV counterclockwise may feel a tad smoother, but that's due to the aid of the wrapped, molded frontal grip.  When turning the dial clockwise the left hand must brace the camera to complete operation, which is not the case with the G5X where the standalone EV dial's operation feels more fluid and less "sticky" during operation, and can turn both clockwise/counterclockwise without aid by the left hand.  Meanwhile, turning the G7X-II's mode dial definitely requires the left hand to complete, unlike on the G9X/S110/S120 etc. which requires moderate right thumb action only.
The G7X-II's direct tilt screen mechanism, while more convenient than the the G7X's tilt-up-only type, is obviously based on G1X-II's design, with all design weaknesses carried over as well.  That includes the partially-exposed flex cable, and the inability for the tilt-down mechanism to lock close (there's no click lock when zeroing back the screen).  With the tilt-up mechanism there's some kind of click-locking, which unfortunately is week and is thus as good as none, IMHO.
The G7XII's improvements are not to be undermined.  That includes the newer type GUI menu in line with the G5X's and G9X's, which splits each menu column into pages.  Touch operation to this regard has not been improved though, as eliminating the swipe up/down action is offset by the not-so-easy left/right swiping for switching menu column pages, even though it is easier done via the rear four-way scroll wheel.  Also lauded is the redesigned pop-up flash mechanism, which now allows for manual flash head tilting for bounce flash effect.  The lens ring clutch lever feels a bit light (or weak) but does its job as expected, although personally I would simply leave ring operation in default stepped mode, just like on the G5X/G9X/S110/S120 etc.  And of course there's the newer DIGIC7 chipset as opposed to the G5X's DIGIC6, although whether it can perform better than the predecessor — and to how much — remains to be seen.  I would probably dismiss that and still fall for the G5X due to better ergonomics and certain operational advantages, such as the side-articulating screen, as well as a sharper rear screen display (as compared to the G7X-II).
Meanwhile it took me another showroom visit to truly test the G7X-II's AF performance.  Of course not as fast as traditional SLRs, but still an improvement over older models IMO.  However, care has to be taken as to which AF mode and selection methods are being used, especially since all Powershot G*X cameras lack the "AI Focus" mode.  Under "One Shot" the FaceAiAF w/Tracking mode performs great and the AF points can lock onto near-stationary subjects — but not moving subjects — accurately.  When tracking moving subjects "AI Servo" must be used, which also limits focus selection point to the center.  The "AI Focus" mode is definitely an asset which could've been implemented into these compacts, so it's not known why Canon didn't implement this mode onto its G compacts.
The G7X-II had a on-site offer, at $4980 ($641.75) bundled with one spare battery and one Sandisk Ultra 32GB card, the latter nothing to be desired due to its overall reliability.  An Extreme Pro 32GB could've been bundled given its reduced pricing.
Canon EOS 80D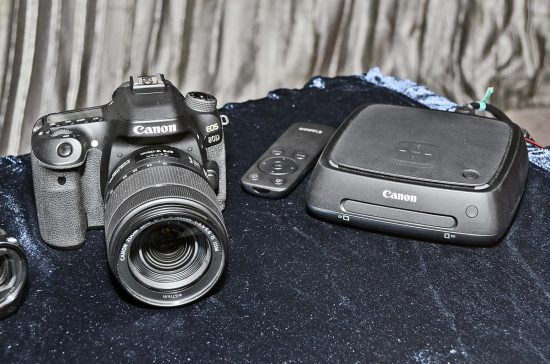 Something Canon HK has press-launched a while ago but was still featured during the roadshow presentation.  This was also the first time the PZ-E1 power zoom coupler is available for public hands-on.  To me however it feels just another toy gadget that may not survive for years, but the idea is good and I only hope more STM (or even micro-USM) lenses would be supported in the near future.  But nothing much about the camera though, nor did I put additional time on it, as I already had my showroom hands-on already.  Overall, a freaking fast camera with a lot of noise (yes, quite noisy during continuous shooting), and for those intermediate users looking for a new SLR, this will be the one.  My only gripe is that despite having enough space on the LHS Canon didn't manage to add back some pro terminals, eg. a PC sync socket.
The speakers
There were three speakers, one from local and two from UK.  However, not being proficient in DSLR video acquisition and loathing the new up-and-coming local pros, I only attended those from the UK guys.  Overall I'd say, 85% real-0life experience and perhaps 15% PR-oriented, but at least one denied that, since he's totally convinced by manufacturer's claims on the equipment's capabilities based on his own experiences.  Official video recaps below:
Simon Bruty:
A less approachable guy.  Didn't get much chance to chat with this US-based Brit also due to his tight schedule.  AFAIK he only landed in town the day before the roadshow event and had to leave for the next destination soon after his final lecture session was over (at around 1800).  He did give some useful tips on real-life shooting, although I doubt many other audiences would face similar challenges.
Andy Rouse:
A more approachable guy, also knows how to post for pics.  Calls himself a "Canon Explorer" and refuses to be an "Ambassador" due to the additional responsibilities with the brand (I presume).  Proficient in testing all Canon gear, including various beta units.
For both photogs I tried to ask them for their views on CFast card usage and the challenges to adapt to both CFast and XQD formats in the real-life work place (ie. should they be given cameras of other brands exp. Nikon to work on), but to no avail since I didn't present my questions properly and clearly.
The remaining talk's highlights is here (sorry no subs):
General event highlights is here:
If you have an interesting idea for a guest post, you can contact me here.