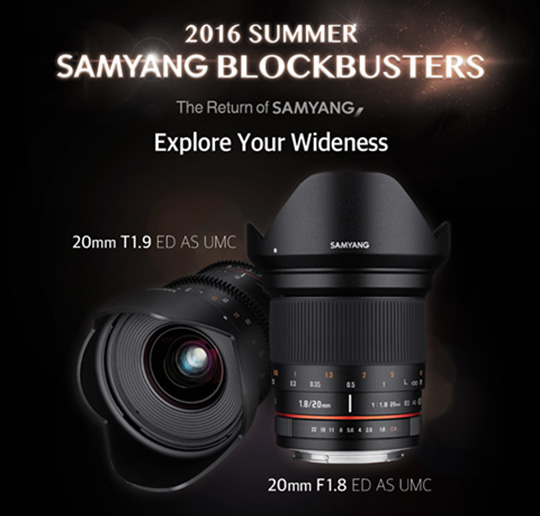 The next lens from the 2016 Samyang summer lens blockbuster promo is a 20mm wide angle manual focus lens designed for full frame DSLR cameras. The photo version is f/1.8, the cine model is T1.9:
Samyang 20mm f/1.8 ED AS UMC
Samyang 20mm T1.9 ED AS UMC
The lens will be compatible with 10 camera mounts: Canon EOS, Nikon AE, Pentax K, Sony Alpha, Canon M, Fujifilm X, Samsung NX, Sony E, FT and MFT. Check US pricing and availability. The lens key features are:
Ultra Wide Angle in 94.8°
Aspherical Lens
Ultra Multi Coating (UMC) of Samyang Optics
Circular aperture with 7 blades
Smooth Focus Ring
Technical specifications, MTF charts and full press release:
August 8th, 2016, Seoul, Korea – The global optics brand, Samyang Optics has today introduced new manual focus lenses for full frame DSLR cameras: 20mm F1.8 photo lens and 20mm T1.9 cine lens. As known for the brand's wide and bright lenses, Samyang 20mm series adopted bright F1.8 aperture to provide perfect wide angle for interior shots and landscapes.
Explore Your Wideness with Samyang 20mm Series
The Samyang 20mm F1.8 ED AS UMC and 20mm T1.9 ED AS UMC are wide angle manual focus lenses for DSLR cameras with full frame sensor size. It has been a year that Samyang launched the full frame DSLR camera lens and latest lens was the 135mm series.
Samyang Lenses are known for its bright apertures and so does this Samyang 20mm series. These two lenses have a bright aperture of F1.8, equivalent of T1.9 for cine lenses, to offer a best quality images under various lighting conditions. Also, the lightweight Samyang 20mm series brings the portability to increase the convenience.
Based on Samyang Optics' exceptional optical technology, 13 glasses in 12 groups are used to create the most optimal image quality. Among 13 glasses, there are 2 aspherical lenses and 3 extra-low dispersion lenses per lens to minimize aberration and unnecessary light dispersion, delivering high resolution from centre to corners of the image.
This 20mm angle of view was designed to fulfill consumers' requests to explore various occasions with Samyang Lens. In between ultra-wide 14mm and wide-standard 24mm, 20mm lens is a perfect fit to explore wide angles not only for shooting indoor images such as concerts and interior photos but also street snaps. The 0.2m of minimum focusing adds versatility to the lens.
Add Samyang 20mm T1.9 to Your Samyang VDSLR Kit
Specifically, the Samyang 20mm T1.9 is a cine lens optimally designed for professional follow focus system, thanks to the quiet and smooth de-clicked focus and aperture gear rings. Also, the distance scale and T numbers are marked on both sides of the lens for convenience when filming.
The best partners to explore your wideness, the Samyang 20mm series is globally available from September. The suggested retail prices are EUR 499 for 20mm F1.8 photo lens and EUR 549 for 20mm T1.9 cine lens.
Via Samyang