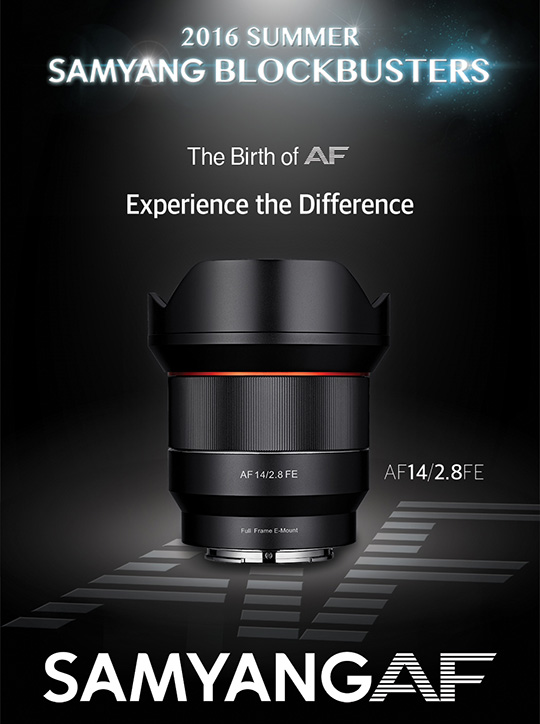 The next lens from the 2016 Samyang summer lens blockbuster promo is a new Samyang AF 14/2.8 FE designed for Sony E-mount mirrorless cameras with full frame sensor. The lens was initially mentioned back in May, but no other information was provided (check US pricing and availability). The lens key features are:
Ultra Wide Angle in 113.9°
AF System
Aspherical Lens
Ultra Multi Coating (UMC) of Samyang Optics
Circular aperture with 7 blades
Technical specifications, MTF charts and full press release:



Samyang Announce the Release of AF 14/2.8
August 15th, 2016, Seoul, Korea – The global optics brand, Samyang Optics today announced the long-awaited release of autofocus lens: 14mm F2.8 for Sony E mount Mirrorless cameras with full frame sensor size. The new Samyang AF 14/2.8 FE is the widest lens in its class offering superb quality images to photographers. This launch follows the recent availability announcement of Samyang AF 50/1.4 FE.
Optimised Optical Design for Full Frame Mirrorless Camera Lens
Samyang AF 14/2.8 FE is specifically designed to work in harmony with full frame mirrorless cameras in Sony E mount. The flow of light is devised based on the uniqueness of the distance from glass to sensor in mirrorless cameras to create optimal performance. Along with portability of mirrorless lenses, the 14mm F2.8 is compatible with full frame sensors to deliver the wideness and sharpness of image to photographers.
The 14mm F2.8 is the widest angle available in the market in its class, broadening the sight of photographers to capture the world. Based on Samyang Optics' exceptional optical technology, Ultra Multi Coating and three aspherical lenses have been included among 14 glasses in 10 groups to minimise aberration and unnecessary light dispersion, delivering high resolution from the centre to the corners of the image.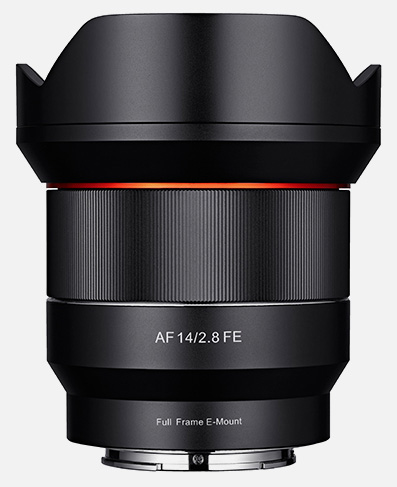 AF Performance and Ergonomic Design Based on Class-Leading Technology
This new product will be one of the first autofocus lenses in over 40 years of Samyang's class-leading core optics technologies. Samyang has captured the essence of world leading image technology with their manual focus lenses and reinterpreted it into autofocus lenses. Photographers now can enjoy the prime manual lens image quality and autofocus lens. Samyang AF 14/2.8 FE is compatible with both phase detect and contrast detect sensors to operate fast and accurate focus detection.
The 86mm of maximum diameter is also the result of years of R&D for best handling, by adding stability. Also the minimal and sleek design and metal-housing solidify the build quality with the internal focus system.
Available from September 2016
This launching expands the boundaries of Samyang Optics photo lens line-up from manual focus only, to now include autofocus lenses. With the addition of 14mm to 50mm, Samyang now has two autofocus lenses along with 39 manual focus photo & cine lenses and 6 professional cine lenses, XEEN. The lens will be globally available from September, and the suggested retail price is EUR 699.