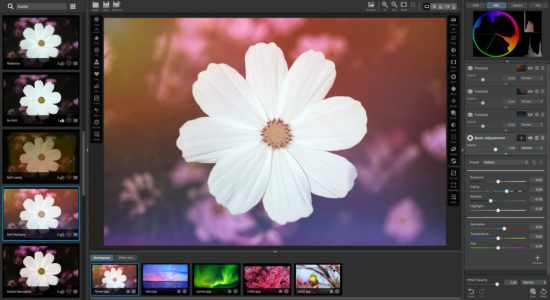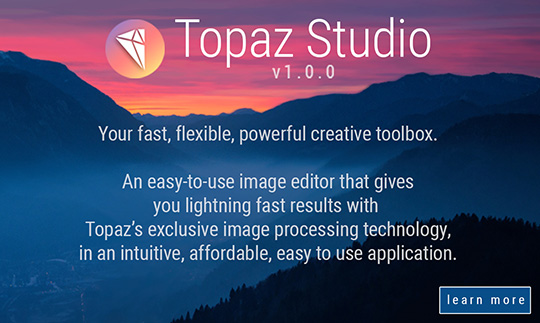 Next week Topaz Labs will officially release their new image editor called Topaz Studio.
Topaz Studio has a set of free and paid adjustments – for more information, visit this page.
For the next 4 days you can get the Pro Adjustment Pack for $99 when using coupon code "STUDIO". This includes all 14 paid adjustments available within Topaz Studi0 (over $270 worth of adjustments available for $99).
Additional information on the new Topaz Studio:
We are excited to announce our latest product Topaz Studio. A photo editor, extensive effect toolbox and powerful creative playground, Topaz Studio gives you fast results with Topaz's exclusive image processing technology, in an intuitive, affordable, easy-to-use application.
Fast
Achieve amazing results with Hundreds of 1-click effects, RAW image support, automated lens correction, and other integrated tools.
Powerful
Achieve professional results with Topaz's exclusive image processing technology in compact easy to use effects and adjustments. Each adjustment is a plugin unto itself, from adaptive contrast to unique color controls, more powerful than Photoshop's adjustment layers.
Easy to Use
Topaz Studio is built to be flexible. Effortlessly create an endless variety of looks by adding, blending, masking, rearranging, and replacing adjustments to create drastically different effects in an instant.
Compatibility
Photoshop CS4+, Photoshop CC, Photoshop Elements 12+,
Paintshop Pro X 6+, Serif PhotoPlus X5+, Lightroom 4+, Lightroom CC, and photoFXlab
System Requirements:
Mac OSX 10.9+
Windows 7/8/10 x 64bit + OpenGL 3.3 (*does not support Windows 32bit)
RAM: ≥4GB
GPU VRAM: ≥1GB