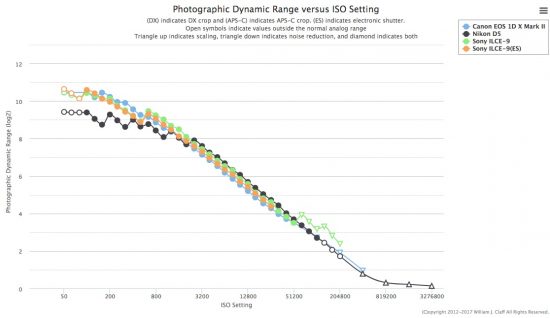 Photonstophotos published their Sony a9 test results with some comparison data from the Canon 1D X Mark II and Nikon D5 cameras:
Photonstophotos updated their Sony a9 results with final data and it performs very well against its competitors up till 3200 ISO, where the Nikon D5 just edges it out. It's good to see that the electronic shutter of the Sony a9 doesn't affect the dynamic range of the a9 much according to Photonstophotos' results. The Sony a9, beats the Canon 1D X Mark II across the board, but falls just behind the Nikon D5 in low light, while besting it in maximum dynamic range. (SonyAddict)
Camera Model

 ▾

Maximum
PDR
Low Light
ISO
Low Light
EV
Sony ILCE-9
10.47
6612
11.05
Sony ILCE-9(ES)
10.64
5709
10.84
Nikon D5
9.42
7178
11.17
Canon EOS 1D X Mark II
10.46
5189
10.70
Next is a comparison between the Sony a9, Sony a7 Mark II and a7r Mark II: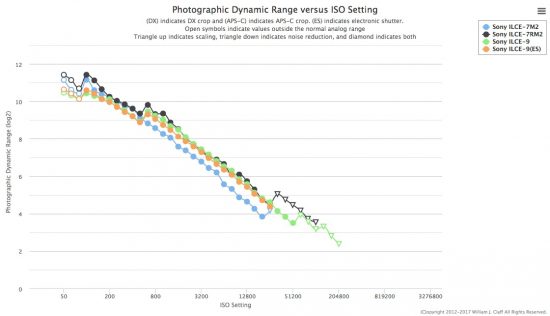 Sony a9 is bested by both the Sony a7 Mark 2 and a7R Mark 2 in dynamic range, but beats the Sony a7 Mark 2 in low light.
Camera Model

 ▾

Maximum
PDR
Low Light
ISO
Low Light
EV
Sony ILCE-9
10.47
6612
11.05
Sony ILCE-9(ES)
10.64
5709
10.84
Sony ILCE-7RM2
11.42
6800
11.09
Sony ILCE-7M2
11.16
3863
10.27
Via Sonyaddict