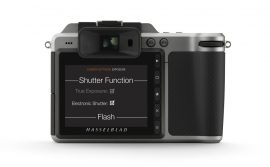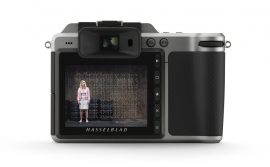 Hasselblad released firmware update 1.17.2 for the X1D medium format mirrorless camera (X1D kits now come with $600 free accessories via mail-in rebate):
Firmware release 1.17.2 for the Hasselblad X1D-50c adds two important features that extend the shooting envelope of the camera: resizable autofocus points, and an electronic shutter function.

By popular demand, three sizes may now be selected offering 35, 63 or 117 points by holding down the AF/MF button and pressing the display [] button to cycle through them. The focus point may be reset to center easily by pressing the X button.


The electronic shutter allows for shutter speeds up to 1/10,000s and is silent, allowing use of the X1D-50c under conditions that require absolute discretion or completely zero vibration. It allows the production of images with extremely high quality in situations that might have previously been challenging – both when silence is needed such as during live performances, or when working handheld in extremely low light conditions.


Furthermore, this opens up the possibility to produce adapters for an extended range of lenses beyond the already wide range of native Hasselblad XCD and HC offerings should you have an extremely specific requirement.

User Guide version 1.6 for X1D contains further information for these new functions.