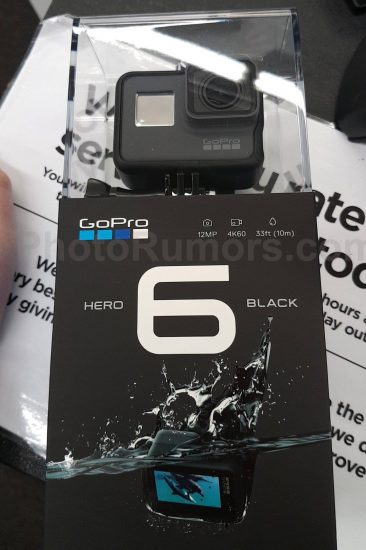 Additional information on the upcoming GoPro HERO 6 Black camera:
There will be only one Hero 6 (Black) camera announced.
All accessories from the Hero 5 Black will fit the new Hero 6 model (same size, same battery – the Hero 6 design is identical to the Hero 5).
4K60, 1080p240, 1440p120 video recording capabilities.
The Hero 5 Black and Hero 5 Session will still be available. The new Hero 6 Black will be more expensive.
Probably there will be no price reduction on the Hero 5 Black this year (currently $399).
The Hero 4 Session is going to be discontinued soon (already discontinued in some stores).
There will be a new underwater-stick with a quick-release plate similar to the GoPro El Grande.
There will be a price reduction on the 3-way grip and on the El Grande pole.
There is a small chance that the GoPro HERO 6 camera will be available in different colors.
The official launch is confirmed for September 28th.