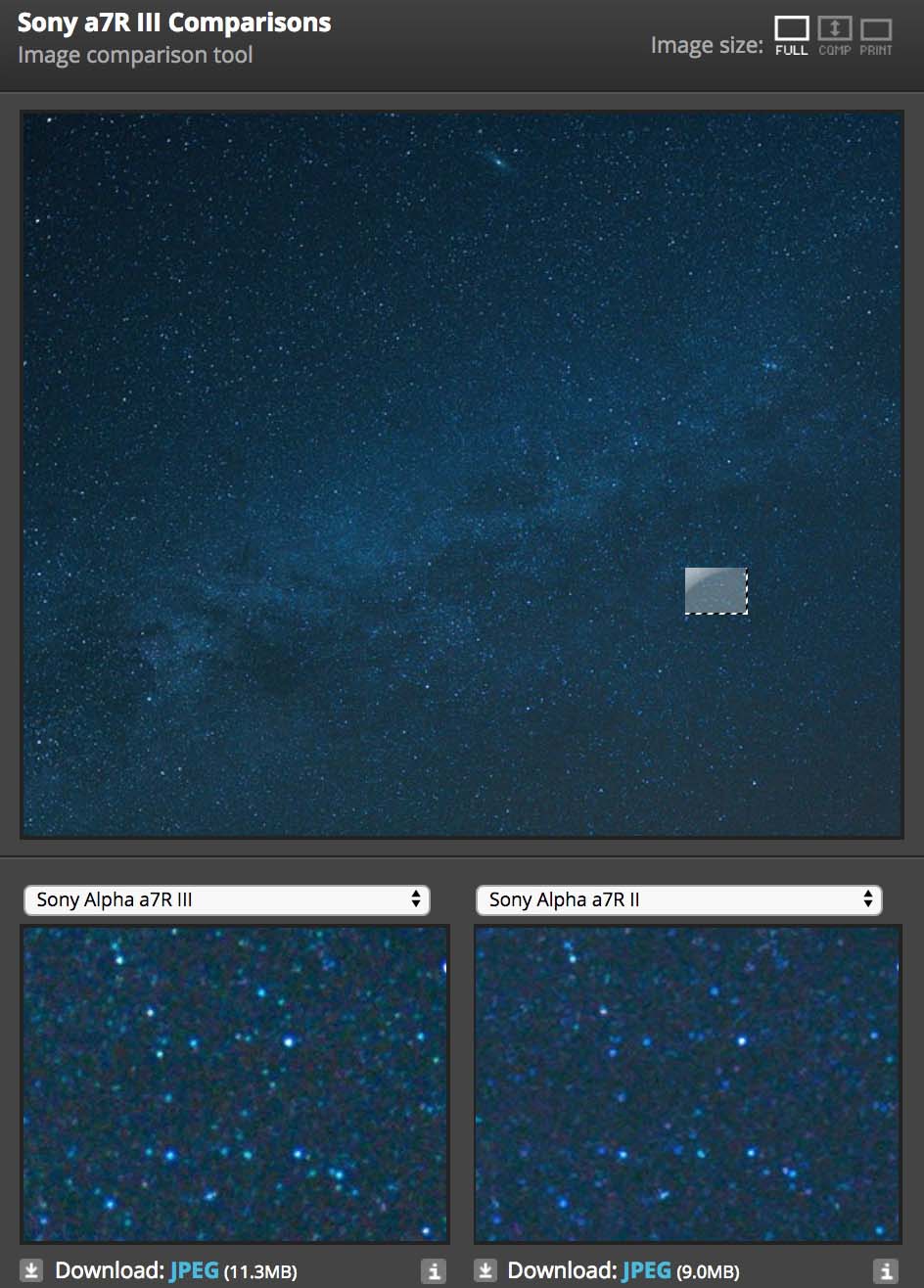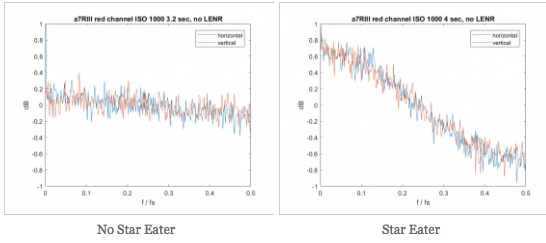 Jim Kasson published a new report confirming that the new Sony a7RIII mirrorless camera ($3,198) still "eats stars". Dpreview now has a comparison tool that clearly shows the issue. I was told by a reader that the Sony star eater issue is not something that can be resolved because of those reasons:
The smaller body design/size of the Sony A7RIII (and other A series cameras) results in a higher internal camera heat level which means in general a more aggressive noise reduction is necessary across the ISO range, but particularly important in the high ISO range and during long exposures because the accumulated effect of the activated sensor causes the heat to skew the signal/noise ratio and produces much noisier images. This is much more evident in higher resolution cameras like the A7R II & III because the more intense data processing generates more heat and the electronics of a higher resolution sensor means more dark noise in the signal/noise ratio. In order to resolve that a more aggressive noise reduction had to be applied at ISOs > 3200 which causes pixel level stars to be wiped. Pixel level doesn't mean actual pixel sized stars, the threshold is actually 4 pixels that make up an RGB block of the Bayer array since color info is needed to make noise reduction adjustment, so stars that are ~4 pixels or smaller are at risk of getting removed.
The phase detect AF sensors built into the imaging sensor generate dark noise in the sensor readout, and that is also especially noticeable at ISOs >3200. In addition, even though the PDAF system is not active during the actual capture of a photo, the electronics are passively in a "standby" mode and that generates additional dark noise. Because of this, the PDAF hot spot areas follow a noise reduction algorithm that is different than the rest of the sensor and accounts for that in order to deliver a smooth gradation and even noise pattern.
I was also told that currently because of the hardware limitations there is no way to resolve the issue and that it is not technically an issue at all, it is just a limitation of the hardware. Any fixes that would be applied via firmware would end up exposing the higher noise, which the engineering team determined would be a worse problem for users so it doesn't seem like a proper solution is in the works.
Via SonyAddict (2)
---
Check the latest Black Friday deals