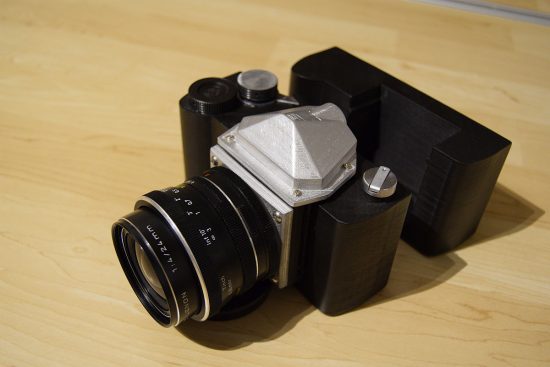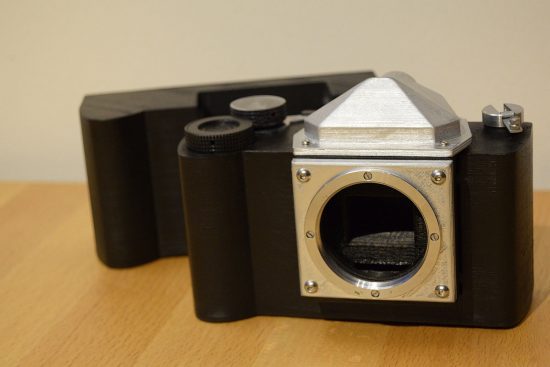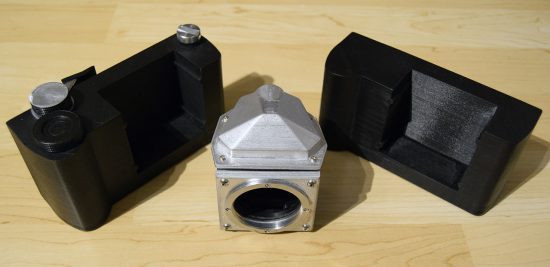 There is a new project called PONF for a film and digital camera in one and I just received the first pictures of the 3D printed model of the skeleton of the camera. Here are the camera's specifications:
Camera Body
Type: Single-lens reflex
Lens Mount: Natively: M42 – Other mounts available through adapters
Body finish: Chosen by the user
Bare dimensions (approximate): Body – LxHxW (cm): 6x6x3.8 – with no pentaprism
Backs – LxHxW (cm): 14x8x3 – maximum
Digital Back
Sensors: Sony CMOS image sensors, full-frame / APS-C
Pixel count: Full-frame: 36.4 MP / 24.3 MP APS-C: 24.3 MP
Board: RaspberryPI Compute Module
Operating System: Linux Embedded
Display: 5′ TFT resistive touch display (10×8 cm), 4:3 aspect ratio
Film Back
Film type: 135 film ( 36×24 mm )
Format: Cartridges
Next is some additional information on the PONF multi-back open camera project from one of the founders:
The PONF Multiback Open Camera has 35mm film and full-frame/APS-C digital interchangeable backs on a reflex camera body. The digital back is based on Sony sensors and RaspberryPI Compute Module 3, and is a fully functional computer running a Linux OS. The body has a M42 mount so that it can use every lens.

The cameras are all but an idea: they can sport Sony sensors, RaspberriPI Compute Module 3 core, Linux based Operating System (the digital backs are small but powerful computers). The film back is a 35mm one, fully manual.

We started working on the PONF Multiback Open Camera Project in 2016, with the idea to make a camera that could allow photographers to easily shoot with film and digital.

PONF is an acronym for (Photography ON Film) and one of the key element of the project is to foster photography, and specifically film photography as a medium to learn taking better pictures and a creative medium.

We decided to make the Project as an Open one, because we are convinced that sharing knowledge, experience, ideas, and time is the only way to improve what we love: photography. We are open to everyone's cooperation: individuals, companies, academia, universities, R&D public and private institutions. We hope that everyone who is involved in film photography, and photography at large, of course, will decide to come and help us, bringing its unique contribution of knowledge. We are yet partnering with key actors in photographic and film industry, in electronics and at company level. A complete list of our partners and key suppliers will be soon made available.

The camera will be almost entirely hand-assembled following the needs and the requirements of the photographers and allow us to have an accurate control of camera's quality.

We are based in Nuremberg, Germany as we want to be at the heart of Europe and revive European photographic industry.

We are currently at about 60% of the timeline and we plan to be on the market within the 2nd quarter of 2018. We will run a presales campaign later this year, at the end of the testing phase. Prices will be highly competitive and the sales will be made from our company website only.