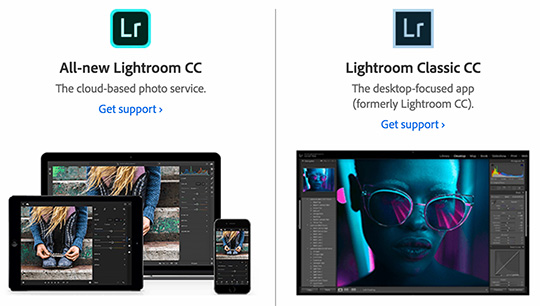 The previously rumored major Lightroom Classic 7.2 performance update is now officially released – you can read the details at Adobe's blog (see also this post):
"In the past, many users have reported that Lightroom becomes slower after a prolonged usage. This issue should have been fixed with this version. Also, resource-intensive activities, such as export, import, preview generation, and HD/panorama merge should be faster if your machine has 12 GM or more RAM. We, specifically, have implemented changes related to Threading Building Blocks (TBB). This should be effective on machines with 12 GB or more RAM."
Adobe released also a new ACR version 10.2.
I believe Adobe also released a new Photoshop 19.1.1 version.
The current Adobe CC plan rates can be found here. You can get a free Lightroom CC trial on this page (no credit card required). More information on the different Lightroom versions is available here. The different Adobe Creative Cloud options are described here.
Update – list of new lens profiles added:
| | | | |
| --- | --- | --- | --- |
| Manufacturer | Lens | Lens mount | Lightroom/Camera Raw version profile added |
| Canon | Canon EF 85mm f/1.4L IS USM | Canon | 7.2/10.2 |
| Leica | Leica NOCTILUX-M 75mm f/1.25 ASPH. | Leica M | 7.2/10.2 |
| | Leica THAMBAR-M 90mm f/2.2 | Leica M | 7.2/10.2 |
| Rokinon | Rokinon SP 14mm f/2.4 | Canon | 7.2/10.2 |
| | Rokinon SP 85mm f/1.2 | Canon | 7.2/10.2 |
| Sony | Sony E 18-135mm F3.5-5.6 OSS | Sony E | 7.2/10.2 |
| Tamron | TAMRON 100-400mm F4.5-6.3 Di VC USD A035 | Canon, Nikon | 7.2/10.2 |
| | TAMRON 100-400mm F4.5-6.3 Di VC USD A035 x1.4 | Canon, Nikon | 7.2/10.2 |
| | TAMRON 100-400mm F4.5-6.3 Di VC USD A035 x2.0 | Canon, Nikon | 7.2/10.2 |
| Zeiss | Zeiss Milvus 1.4/25 ZE | Canon | 7.2/10.2 |
| | Zeiss Milvus 1.4/25 ZF.2 | Nikon | 7.2/10.2 |