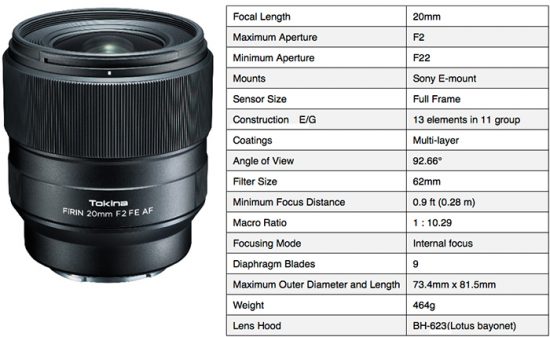 The Tokina FíRIN 20mm f/2 FE AF lens for full-frame Sony E-mount is now officially announed. This lens is the AF version of the current model. The US price is not yet released.
Sony E mount
Lens configuration: 11 groups of 13
Filter size: 62 mm
Shortest shooting distance: 0.28 m
Maximum shooting magnification: 1: 10.29
Number of diaphragm blades: 9
Size: 73.4 mm × 81.5 mm
Weight: 464 g
Expected release date: End of April 2018
Tokina is also expected to announce a new Opera 50mm f/1.4 FF full frame lens for DSLR cameras.
Here is the full press release:
Kenko Tokina Co., Ltd. is proud to announce the new Tokina FíRIN 20mm F2 FE AF, the second prime lens in Tokina's premium lens series "FíRIN" for mirrorless cameras.
Overview
FíRIN 20mm F2 FE AF is the long-awaited autofocus version of the existing FíRIN 20mm F2 FE super wide angle lens for full-frame Sony E-mount. Adopting the same optical design as in MF model, now we offer two options for end-users to choose according to the purpose and style of shooting.
Optical performance
Being optimized for full size camera sensors in terms of size and resolving ability, the optical design adopts 2 aspherical elements and 3 lenses molded from Super-low Dispersion glass to significantly reduce any type of aberration including spherical aberration, distortion and chromatic aberration while assuring high resolution and stunning performance even at wideopen aperture.
Functionality
Keeping along with the basic development concept of the previous model FíRIN 20mm F2 FE AF is made compatible to autofocus and other functions of the camera providing perfect functionality and usability for the photographer.
Ring-shaped ultrasonic autofocus motor
For AF drive system FíRIN 20mm F2 FE AF adopts quick responsive and silent ring-shaped ultrasonic motor. Coupled with GMR sensor AF performs fast and accurate focusing.
Full compatibility to AF system
FíRIN 20mm F2 FE AF is fully compatible with Fast Hybrid AF system and all AF function settings, providing the same AF performance as with common E-mount AF lenses. Fine manual focus adjustment is also possible.
MF Assist function
Accurate focusing is supported by compatibility to MF Assist function, when fine focusing adjustment is operated by manual rotation of the focusing ring with the simultaneous interlocking with image enlarging function and bar distance display on the monitor.
Optical correction
Due to the data transmittance ability via electric contacts the camera obtains necessary data from the lens chip to correct shading, distortion and lateral chromatic aberrations. Optical corrections can be done by the camera as well.
Image Stabilization
By transmitting focal length data FíRIN 20mm F2 FE AF is able to get maximum use of In-Body Image Stabilization function of the camera.
* When in-built camera flash is used vignetting may occur. Please use external flash.
About sales release:
Sales release in Japan: end of April, 2018 (tentative)
Sales release worldwide: end of May, 2018 (tentative)
A prototype of Tokina FíRIN 20mm F2 FE AF will be displayed at CP+2018
Kenko Tokina booth location: Exhibition Hall(1F), booth # G-57
---
Like: Tokina Facebook page | Join: Tokina Facebook group