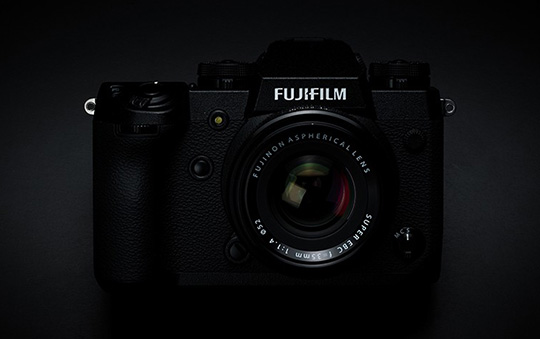 Cinema 5D interviewed Fujifilm Manager Jun Watanabe where they covered the Fujifilm X-H1 camera launch (recap via FujiAddict):
Fujifilm now says the Fujifilm X-T2 is for "high amateurs"
The Fujifilm X-H1 is for "professionals" shooting video and photos
X-H1 AF has been improved for Sports
They are targeting small low budget crews for Video
ETERNA was developed because other Simulations were "too brilliant for extended viewing" which probably means saturated for film use.
ETERNA has less color and smoother shadow tones.
8-bit was used because of technology and cost concerns
The F-Log ETERNA LUT can be used for the X-H1( and X-T2)
F-Log is being considered for a future Fujifilm X-T2 firmware update (which will make using ETERNA easier).
DPReview interviewed Jun Watanabe from Fujifilm and they covered in details the new IBIS system inside the X-H1 camera (recap via FujiAddict):
The most effective IBIS lens is the Fujinon 35mm f/1.4 XF R
IBIS and in body F-Log were top requests by videographers when designing the Fuji X-H1
Positive feedback on ETERNA and 200Mb/s internal recording
"Best solution for quick, high-quality video capture"
"Velvia is tuned to give you colors as you remembered them. More vivid blue skies, for example. Eterna is tuned in the opposite direction, for moderate saturation, with more cyan and green bias."
Can't include Zebra because of hardware constraints.
8-bit with ETERNA is a better shortcut than 10-bit in Fujifilm's opinion
Camera for Videographers and Photographers
Autofocus in low light and subject tracking improves
Added flicker reduction and dynamic range priority, etc…
"Minimum low light AF response has been improved from 0.5EV to -1EV"
"New phase-detection autofocus algorithm and parallel data processing"
"The X-H1 has the same processor as the X-T2 but the algorithms are new"
"A single autofocus point in the X-T2 was divided into 5 zones. In the X-H1, this has been increased to 20 zones."
"Data from each zone is processed in three ways, for horizontal detail, vertical detail, and fine, natural detail like foliage or a bird's feathers."
"We've also achieved phase-detection performance down to F11, which means that phase-detection autofocus will be possible with our 100-400mm lens in combination with a 2X teleconverter, with a much higher hit-rate compared to the X-T2."
Still, lenses will remain the same but, sounds like more MK lenses to come.
"Professionals are generally more accepting of larger cameras, and [compared to DSLRs] the X-H1 isn't that big."
Making it larger made it easier to cool
Fujifilm is trying to attract DSLR users by adopting a lot of the GFX features meant to help transitions.
Fuji X-H1 related videos and links:
---