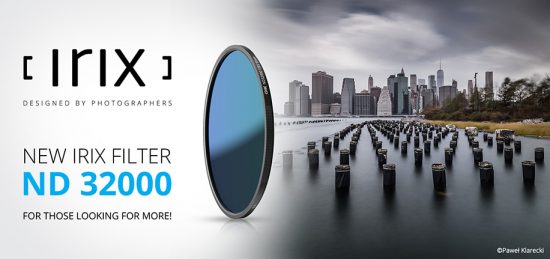 Irix announced a new ND32000 15-stop neutral density filter. Here is the official press release:
New Irix filter ND32000 - for those looking for more!

If you're still searching for something more powerful then the ND 1000 filter, then Irix has some great news for you!

This young Swiss company had released a brand new filter for their Irix Edge family.

The ND32000, with an optical density of 4.5 and incoming light reduction by 15-stops, allows the user to get an exposure time of up to five minutes on a sunny day!

Therefore you can enrich your portfolio with mirror-smooth water and perfectly blurred objects in motion such as the clouds and city traffic, even under bright sunny conditions.

Thanks to high quality optical glass equipped with a special waterproof and oil repellent NANO coating, the filter's surface is protected from stains and fingerprints and enables the use of the filter in extreme weather photo shoots.

What's more, due to the possibility of screwing the filter onto the lens, you can be sure that each shoot made with the Irix Edge 32000 is protected from any light leakage.

The retail price for the Irix Edge filter ND32000 is 159 euros. The product will be available on sale in the next few days.

Currently the Irix Edge family consists of CPL, ND and UV filters of various diameters & made especially for Irix super thin gel filters sets.
Irix products are sold in the US at B&H, Adorama, Amazon and in Europe at Amazon UK, Amazon DE, Amazon FR, Amazon IT.