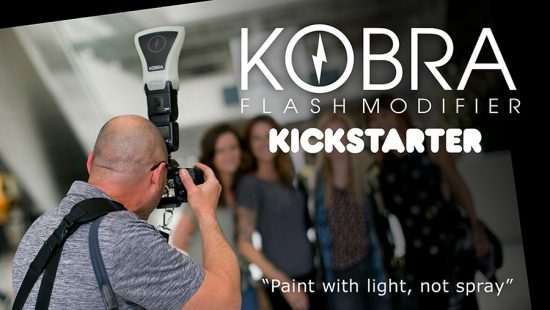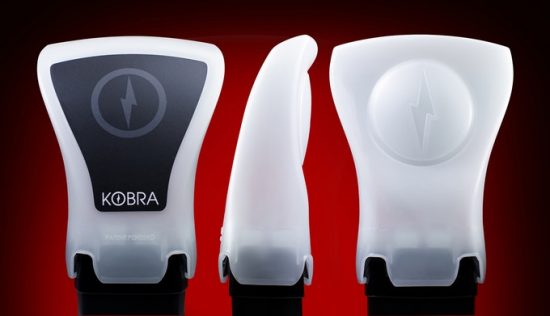 The Kobra Flash Modifier project is now relaunched on Kickstarter and they have already more than doubled their pledged goal of $20,000 with 19 more days to go:
The KOBRA Flash Modifier is molded from a high-grade, flexible, light diffusing clear silicone that is not affected by high or low temperatures. This allows the KOBRA Flash Modifier to bounce back to its originally molded shape after being folded from storing in your camera bag.

The KOBRA Flash Modifier gets its backbone from the patent-pending built-in reflector. The reflector bounces the light forward through the clear silicone, acting as a second layer of diffusion, giving the photographer the ability to "paint with the light, not spray."
Additional information:
Press release:
KOBRA Flash Modifier Provides Photographers Exceptional Design and Function on Kickstarter
KOBRA takes a bite at the flash modifier market with a relaunch on Kickstarter offering an attractive design and price
Irvine, CA – Red Tusk, LLC. announced the relaunch of their KOBRA Flash Modifier on Kickstarter with exclusive features and competitive pricing.
The KOBRA was designed to give photographers an effective modified flash solution that is lightweight, flexible and with a sleek design. Professional photographer, Paul McKelvey, conceived the idea for KOBRA through his disappointment in the current market. McKelvey said, "I have used all the 'on camera flash' modifiers that are available and have been unsatisfied with the results. I decided to stop complaining and make my own."
The new Kickstarter campaign includes the improved KOBRA Band, a high-grade, flexible silicone that is not affected by high or low temperatures. The new design features vent holes to allow air to circulate over the flash head and prevent the potential for overheating.
Red Tusk, LLC. took the lessons learned from their first campaign to heart. Manufacturing in the U.S. resulted in an unrealistic funding goal. During their research and design, they found an experienced manufacturing facility specializing in quality silicon molding that would meet all their needs at a lower cost.
As a result, backers will find improved pricing over the previous campaign. Pre-orders for the KOBRA Flash Modifier starts at $38, a 25% discount off the retail price.
Red Tusk, LLC. is confident the KOBRA will be a vital part of a photographers' kit. "The beauty of the KOBRA is that it gives the user the ability to control the light, explains McKelvey. "You can focus on capturing moments rather than looking for ceilings or walls to bounce off. The KOBRA will give you a high-quality outcome, no matter what lighting conditions you are in."