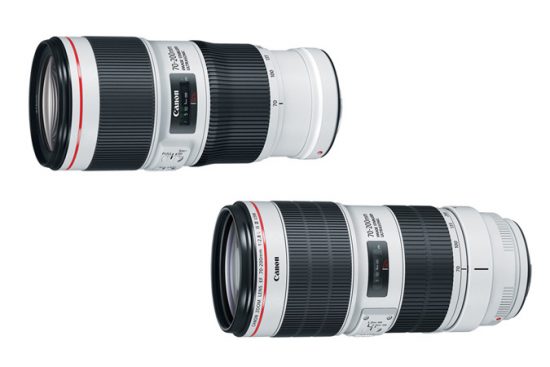 Canon officially announced the previously rumored EF 70-200MM F/4L II USM and EF 70-200MM F/2.8L IS III USM lenses:
Canon EF 70-200mm f/4L IS II USM
The new Canon EF 70-200mm f/4L IS II USM features numerous updates over its predecessor, making it an ideal lens for advanced amateur photographers using Canon DSLR cameras such as the EOS 6D Mark II or EOS 80D. Most notably, Optical Image Stabilization is upgraded from three stops to five shutter speed stops1 of correction over the original f/4 lens. The improved IS allows photographers to more easily capture crisp, in-focus images without the use of a tripod. The new lens also features three IS modes, each uniquely designed and suitable for a variety of shooting situations, such as the capture of still subjects, panning or fast moving objects2. Furthermore, the IS operational noise has been reduced, which proves ideal for photographers shooting in a concert hall or on-stage shooting at the theatre.
Additional noteworthy features of the Canon EF 70-200mm f/4L IS II USM include:
One fluorite lens and two UD lenses helps to provide high-image quality
Minimum focusing distance shortened from 1.2m to 1m (3.9ft to 3.3ft)
Super Spectra Coating technology and optimized lens element placement helps minimize ghosting and flaring
Circular nine blade aperture producing a beautiful bokeh quality, ideal for portrait shooting
Lens features 20 lens elements in 15 groups
Fluorine coating on front and rear elements helps to reduce smears and fingerprints
Inner focusing system with Ring Ultrasonic Motor
Scheduled to begin shipping in late June 2018
Canon EF 70-200mm f/2.8L IS III USM
The new Canon EF 70-200mm f/2.8L IS III USM is an ideal lens for professional photographers who shoot with the Canon 1D and 5D series of DSLR cameras. The inclusion of Air Sphere Coating (ASC) technology helps to reduce flaring and ghosting, and suppresses the reflection of light.
Additional noteworthy features of the Canon 70-200mm f/2.8L IS III USM include:
Optical Image Stabilizer up to 3.5 shutter speed stops1 of correction
Fluorine coating on front and rear elements helps to reduce smears and fingerprints
Inner focusing system with Ring Ultrasonic Motor
One fluorite lens and five UD lenses helps to provide high-image quality
Minimum focusing distance of 1.2m (3.9ft)
Lens features 23 elements in 19 groups
Circular eight blade aperture
Scheduled to begin shipping in August 2018