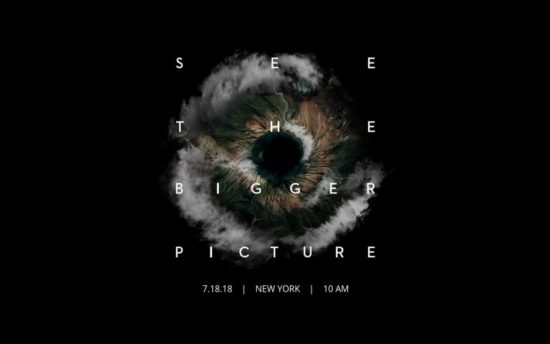 DJI has a new teaser under the slogan "See The Bigger Picture" indicating that the previously rumored Mavic Pro II drone will be announced on July 18th at 10am in New York.
Update: the new drone is rumored to feature the new 12MP Sony IMX226 CMOS 1/1.7″ STARVIS sensor (see PDF spec sheet):
Some 1st class resellers have flown the thing this week. For machine vision of MPII, it will be highly identical to my earlier thoughts if they tell the truth.
1.Front, buttom and rear binary VIO
2.Infrared TOF sensor on the top
3.Large caliber mono VIO on both sides pic.twitter.com/o0T8hfJ2QC

— OsitaLV (@OsitaLV) June 20, 2018
Here are the Mavic Pro II rumored specifications:
Same design as Mavic Pro
Larger than Mavic Pro
Top speed: 45 mph in sport mode
Binocular rear sensors
Upgraded propulsion with larger motors
A new generation of Active Track Feature
Inferred 3D sensing system, avoid obstacles even in the dark
New 1 inch image sensor, 24mm lens, aperture f/2.8 to f/11
Improved Dynamic Range, Color sensitivity, ISO range, Noise Reduce and more, image quality equal to Phantom 4 PRO, 11 stops of dynamic range.
PTZ will be redesigned to look like a miniature version of the Zenmuse X4s or Phantom 4 Pro
D-Log & D-Gamut
No mechanical shutter
Newly designed 3-axis gimbal
Flight time about 35min, 4820 mAh battery capacity, new 4s (15.2V) battery. Not compatible with the first generation of Mavic Pros
Front face will be similar as Spark's front single-point infrared ranging module to achieve night-time obstacle avoidance.
FlightAutonomy system upgraded, the new post-binocular vision sensing system that can detect obstacles in the rear of the aircraft in real time, giving before and after the flight safety and security.