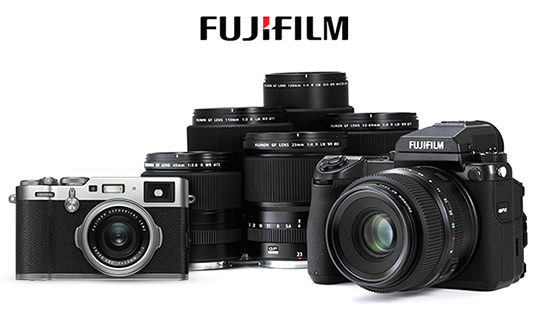 Mr. Udono from Fujifilm was interviewed by a Taiwanese YouTube channel. Here is the recap from FujiAddict:
Fujinon XF 8-16mm f/2.8 R LM WR lens coming this year.
The Fuji X-T100 was designed to fit nicely between the Fuji X-A5 and Fuji X-T20.
Selfie screen could come to more models if customers want it.
Tilty flippy screen wasn't implemented to keep the X-T100 compact.
No hints about the Fujifilm GFX 50R even with pushing, but Photokina 2018 shouldn't be missed.
Additional details from the interview and the full video:
Fujifilm X-T100
Q: Where does the X-T100 Fit
A: Between X-T20 and X-A5
It's good for selfies and vlogging
Q: Difference between X-T20 and X-T100
No shutter speed dial is the biggest difference
It's designed to be easy to use
Q: Why doesn't the X-T100 have a tilty flippy screen
A: The camera would have to be bigger and it would weigh more.
Side note at this point Mr. Udono dropped the X-T100 and it held up just fine to the waist level drop.
Q: Will the selfie screen be found on other models?
A: Yes if customers want it.
Q: How does the quality of the X-T100 picture compare to the X-T20
A: High ISO and speed are slightly better on X-T20 thanks to the X-Trans sensor, but X-T100 is faster and better than X-A5.
Q: What makes the X-T100 stand out?
A: 6fps and 30 min for 4k15p.
Q: Asked about the new X-T100 Grip
A: They wanted to make the new X-T100 grip the customers choice if they want to attach the grip or not, which is included in the box.
Q: What is the image quality you expect
A: Still pure Fujifilm processing technology so image quality should be very good.
Q: You can charge the camera via USB, but what about developing battery bank support
A: We are studying it and working on it.
Q: Could we see 4k30p
A: It's a hardware limitation, but maybe in the next camera.
Q: Why buy the X-T100
A: Great travel camera that you can carry with you anywhere.
Fujifilm GFX and Full Frame
Q: Rumor about big camera company going Full Frame and will Fujifilm
A: We have APS-C and GFX Medium Format, which is much better than Full Frame. Lens and camera size matter so we are making smaller/lighter/easy to carry X series and for the ultimate image quality GFX.
Q: Next year what's going on with medium format (We know GFX R is coming)
A: More lenses coming.
Q: What is the medium format camera market size
A: In the past it was small, but Fujifilm has expanded the market and will continue to with what is coming.
Q: Is there a cheaper camera coming
A: If customers want it with a smile on Mr. Udono's face.
Fujinon XF 8-16mm F2.8 R LM WR
Q: When is it coming
A: Working hard to launch it this year.
Miscellaneous
Q: Will Fujifilm add cellphone style AI to their cameras?
A: Face and Eye detection is kind of this technology, but we try to help customers improve their photos anyway we can.
Q: What are Fujifilm's strongest points
A: Our color reproduction technology and our high-quality lenses.
Q: What do you think of the print market
A: Very few photos are printed and framed, but it depends on the customer.
Q: What is your strategy for growth
A: We want to be different especially in terms of image and lens quality. Our X-T20, XT-2, X-H1 are all similar, but with different concepts.
Q: What's the plan for Photokina 2018
A: It's a big event and we will present our latest technology.
Q: Can we expect to see a new model camera?
A: You will have to come and find out… (Or just read FujiAddict)
Via FujiAddict