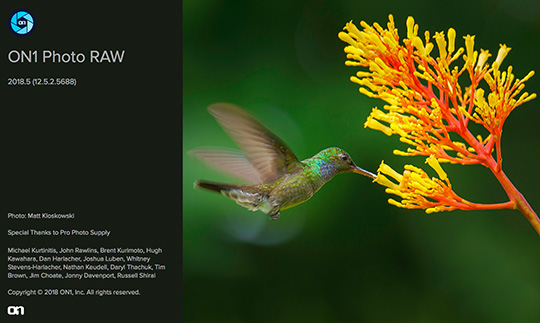 ON1 released Photo RAW 2018.5.2 - this is a free update for all ON1 Photo RAW 2018 owners.
You can try PhotoRAW 2018.5 for free for 30 days.
ON1 Photo RAW 2018 version 2018.5.2 (12.5.2.5686) release notes:
ON1 Photo RAW 2018 includes the essential tools and features every photographer needs in their workflow. Our super fast, non-destructive, and state-of-the-art processing engine gives you an ultra smooth and efficient editing experience. ON1 Photo RAW is focused on allowing you to get the most out of every photo. Photographers now have a tool with fast photo management, hundreds of customizable photo effects, fast and beautiful HDR, panos, masking and selection tools, layers, and much more—in one app.
What's New in 2018.5.2 (12.5.2.5686)
• This is a free update to ON1 Photo RAW 2018. It contains the new Transform tools as well as performance improvements and bug fixes. It is recommended for all users.
• Transform Tools — We have added the Keystone, Level and Move tools to the Transform pane in Develop. This makes it much easier to correct perspective and leveling.
• Improved Performance — We identified several performance issues on macOS after releasing ON1 Photo RAW 2018.5. We have fixed the performance issues with brushing and sticky sliders.
• Hot Pixel Removal for Fujifilm X-Trans sensors.
• Added support for the Canon EOS Rebel T7/2000D
• Improved Color Fringe Removal
• Improved the performance of several filters (Dynamic Contrast, HDR Look, Sharpening)
• Many other bug fixes