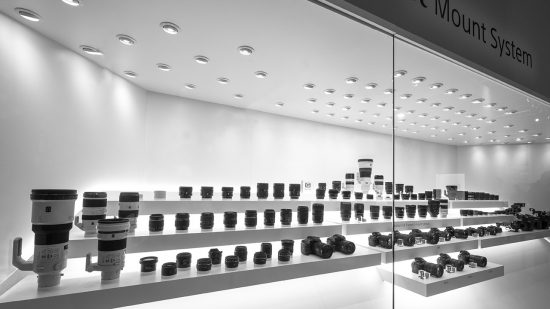 Lensvid published their interview with Mr. Yann Salmon-Legagneur (General manager for product marketing in Sony Europe) taken during the 2018 Photokina show:
Here is a recap of the interview:
Sony announced that it will be releasing 12 new lenses in the "near" future, but it also demonstrated a new eye AF technology for animals (you can see the demo in the video) based on AF. Actually even the existing eye AF is based on some sort of AI and we can only hope that AI, in general, will be significantly more influential on photography in the next few years (computer vision is advancing very rapidly and the photographic industry can benefit from that).
The reason Sony was able to make the new 24mm f/1.4 GM lens so small and light is the inclusion of not one but two XA elements (one of which is also included in the new Sony 400mm f/2.8 lens).
10bit 4:2:2 video recording internal is still a challenge and just like Nikon, Sony also explained that you will need very fast processors which requires a lot of power and produce a great deal of heat to make this happen, so current technology (for consumer-sized cameras) is still not there yet.
Sony is thinking of ways to give users some of the functionality that they lost when the company decided not to support apps on its latest cameras (the intervalometer for example).
Sony does not see a top screen as something that is high on the request list from its users for future cameras.
When it comes to radical changes to the interface and menu system – Sony still feels that text-based menus are the way to go (and not the more modern GUIs with the more app style look that some companies have been adopting).
Making a new version of the Sony LA-EA4 adaptor (with an A99 AF system) might be possible in theory but probably too complex and expensive to develop.
Sony is aware of the request by some users to be able to change the color of the AF point from grey only to something else (will this indeed be added to existing or future cameras is still open).
Yann seemed to like the idea to add the option to add markers in video (for working with them in editing software).
Changing the orientation of the text on the screen and EVF in portrait mode might be more complex than some people suspect (so don't hold your breath for this one).
Finally, being able to keep different settings for stills and video (not through the 1/2 memory options) is a matter of personal choice and Sony currently stick to its existing policy of having the settings stay when you move from stills to video and vis versa (personally we would be happy if there was at least a menu option to choose wheater you want this or not).
Via Lensvid