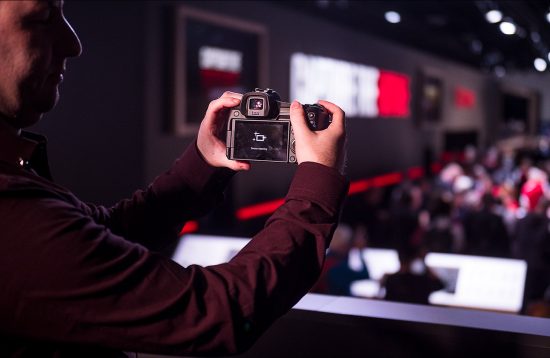 Lensvid published their interview with Mike Burnhill from Canon Europe, here is the recap (more interviews can be found here):
Just like the Nikon Z6/Z7 – Canon targeted with the EOS-R photo enthusiasts and not pro shooters. This led to many decisions that people have later criticized (slow shooting speed, single memory card slot, no full sensor readout in 4K), however, for the most part, all of these are the result of the way Canon's engineers designed this camera for the specific target audience they went for (just think about this camera as a slightly more advanced mirrorless 6D MKII).
The EOS-R started as a project that aimed to make the ideal lens mount (and future lenses). DSLR lenses are complex since they need to compensate for the longer flange distance using additional optics – when you remove the mirror you can remove some of the additional unnecessary optics and make better, small lenses.
With the dual pixel technology every pixel on the camera is an AF point which means that on the EOS-R you have theoretically 30 million AF points, however, this is not practical so Canon reduced this number to 5655 AF points which is a limitation of the screen, not the sensor
The sensor in the EOS-R is from the same "family" of the 5D IV, however, Canon did change a few things like the microlenses as well as the ability to AF in low light (up to -6EV – something that we have seen in action in a demo) and of course the number of selectable AF points which is much higher on the EOS-R.
There is no option to turn off the shutter closing down when the camera turns off (to prevent dust getting into the sensor.
The flange back of the lens is more important than the flange distance – what is important is to be able to put the back of the lens closer to the sensor for better optical performance.
There is not a technical option to put an EOS-R on an EOS-M. The other way around is (maybe) possible but it will only be a macro lens according to Burnhill.
Full sensor readout is not something that was possible to have at this price point at this point in time for Canon (video was just a small part of the feature list Canon wanted for this camera and 4K was even smaller). Burnhill did mention that Canon is aware of the fact that there are users who want this and more advanced video features will come with future models.
Doing 10bit 4:2:2 internally (in the camera as opposed to into an external recorder) is not there yet in terms of heating, processing, cost etc.
Canon invented the dual card slot for cameras and it understand how it is important for reliability, however for the target market of this camera – Canon didn't see the need to add it. However, Burnhill made it clear that a pro mirrorless camera will most likely include a dual card slot.
The idea to add the multi-function controller came from a new Canon engineer (sort of crazy Google style experiment that actually got it to a final product and Canon wants to see how users will accept it and see if it is worth keeping for future cameras).
On sensor image stabilization is something that Canon didn't include because of cost and target market (again this camera was not really designed for pro video work).
Canon promised to release the "holy trinity" of lenses in 2019 (24-70mm, 70-200mm, 16-35mm).
Even more interesting – Canon will not introduce any new F-mount lenses in 2019, but will focus all its efforts on RF lenses. New EF lenses will come later on (there are internal roadmaps for EF) but Canon knows it needs to catch up on its mirrorless lenses.
Canon got some feedback on the eye-AF and the engineers are looking at ways to add this feature for continuous AF.
Via Lensvid
---
The Canon EOS R mirrorless camera is now in stock at: Adorama, B&H, Amazon and Park Camera (UK).
Additional Canon EOS R coverage and the latest reviews can be found at the new Canon EOS R Facebook page.