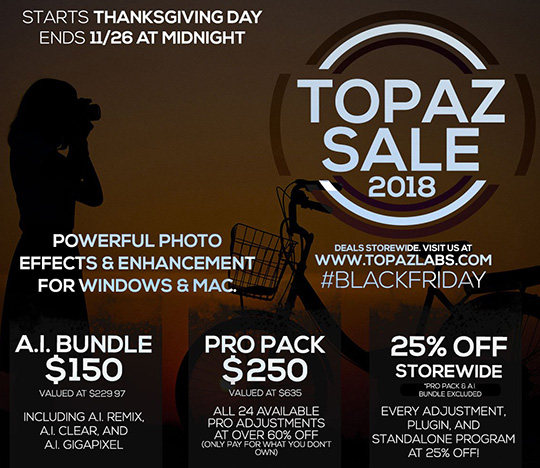 The Topaz Labs Black Friday / Cyber Monday promotions are now live:
Get the Go Pro Adjustment Bundle (Pro Pack) for $250: the pro pack features all 24 pro adjustments available in Topaz Studio for over a 60% off when you buy them all. You won't be charged for items you already own.
Sale on the A.I. Bundle: with this bundle you get the standalone image upscaler A.I. Gigapixel, as well as A.I. Studio adjustments, A.I. Remix and A.I. Clear, valued at over $220 for $150.
25% off all individual items storewide: save 25% automatically when you purchase any items during this promotion, not including the Pro Pack, or the A.I. Bundle.
---
Updated list of Black Friday deals can be found here
For more deals, follow @PhotogDeals on Facebook or Twitter