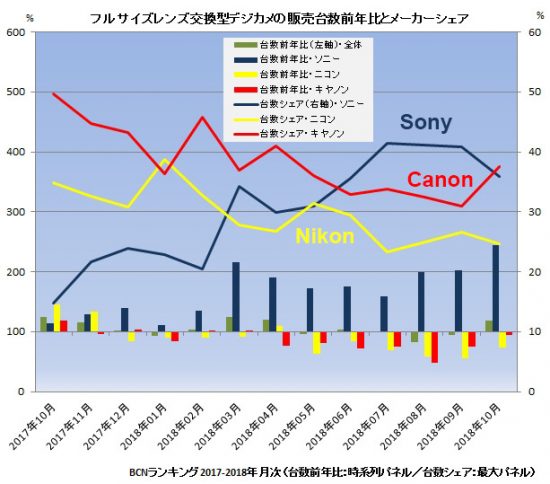 BCN Ranking published their data for the full-frame camera market in Japan from October 2017 to October 2018:
For the time period shown, Nikon had one full-frame camera (Z7 was released in September and was still out of stock in October), Canon also had one full-frame camera (EOS R) released in October. Sony had two full-frame models released in the same time frame: Sony a7 III in April 2018 and Sony a7R III in October 2017.
The Nikon Z6 sales were not included in the above graph.
BCN Ranking collects real sales data from approximately 40% of the Japanese retailers.
The new BCN graph also reflects the previous BCN full-frame mirrorless camera market share report (Sony: 67%, Canon: 22.1%, Nikon: 10.4%).
The last global market share data I've seen can be found here.
Thanks Nakayamahanzaemon!