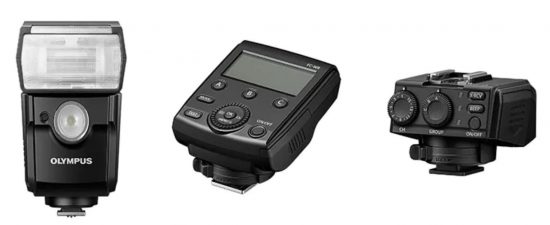 Olympus also announced the previously leaked electronic flash FL-700WR, wireless commander FC-WR and wireless receiver FR-WR:
Olympus Corporation (President: Hiroyuki Sasa) is pleased to announce a new Electronic Flash, the FL-700WR, Wireless Commander FC-WR, and Wireless Receiver FR-WR, all scheduled to go on sale in February 22, 2019. The electronic flash features a dustproof, splashproof, -10°C freezeproof1 performance and wireless radiowave shooting compatibility with a maximum guide number of 422 .

The FL-700WR wireless, high-performance electronic flash offers radiowave shooting compatibility. During wireless shooting, it can be used as a commander or a flash with built-in receiver. The FL-700WR electronic flash, as well as the Wireless Commander FC-WR and Wireless Receiver, FR-WR all feature a dustproof, splashproof, and -10°C freezeproof1 performance. This durable construction makes it possible to control multiple flash units from the camera in various situations, including shooting in the rain.
The full press release can be found here.