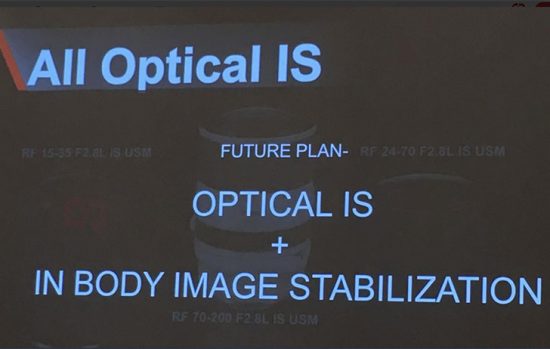 In an interview with AmateurPhotographer, Canon confirmed again what has been reported for months now: IBIS is coming to future Canon EOS R mirrorless cameras:
AP: There have been quite a lot of requests from customers and reviewers alike for IBIS on the EOS R, not to mention dual card slots. How do you respond to this?
YM: Yes, we are aware of these voices… We are thinking how we can develop the line-up. With the R and RP we look at the entirety of the package, as mentioned. In terms of IBIS, we are looking into it for the future. We believe IBIS will work together hand in hand with optical IS lenses, such as the ones you see in front of you, to offer better features.

AP: Do you think the mirrorless market has peaked, particularly in Japan, and do you ever regret coming relatively late to the mirrorless party?
GT: The pace of the shift to mirrorless has slowed down a bit here in Japan and the mirrorless market share for cameras stands at about 60%. As you may know, Canon has a history of not always being first in the market with new technology, but we are very good at catching up, going beyond and becoming the leader.
Other interesting points from the interview:
DSLRs will continue to be a core part of our business
The compact and light M mount will continue, so long as customers require it
RF lens roadmap will be a priority for the immediate future