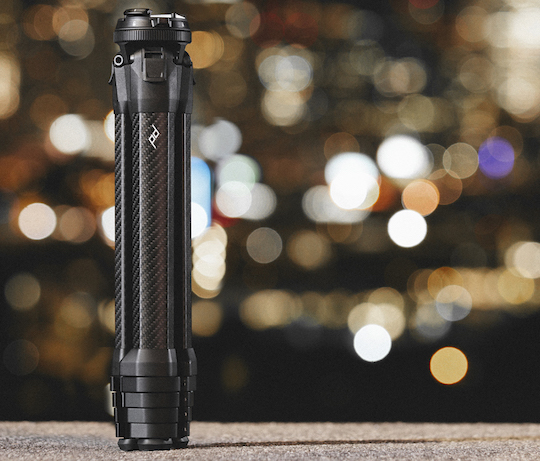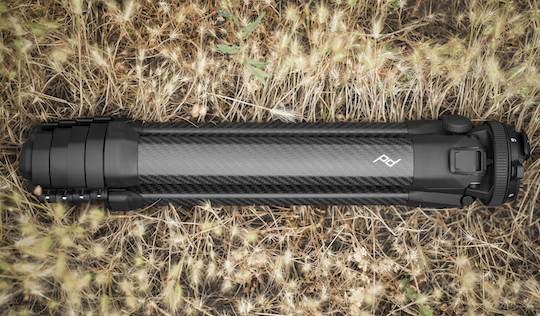 Peak Design just launched a new travel tripod that packs down to the size of a water bottle:
The new tripod is now listed for funding on Kickstarter (so far $1,605,502 funded with a goal of $500,000).
Additional info: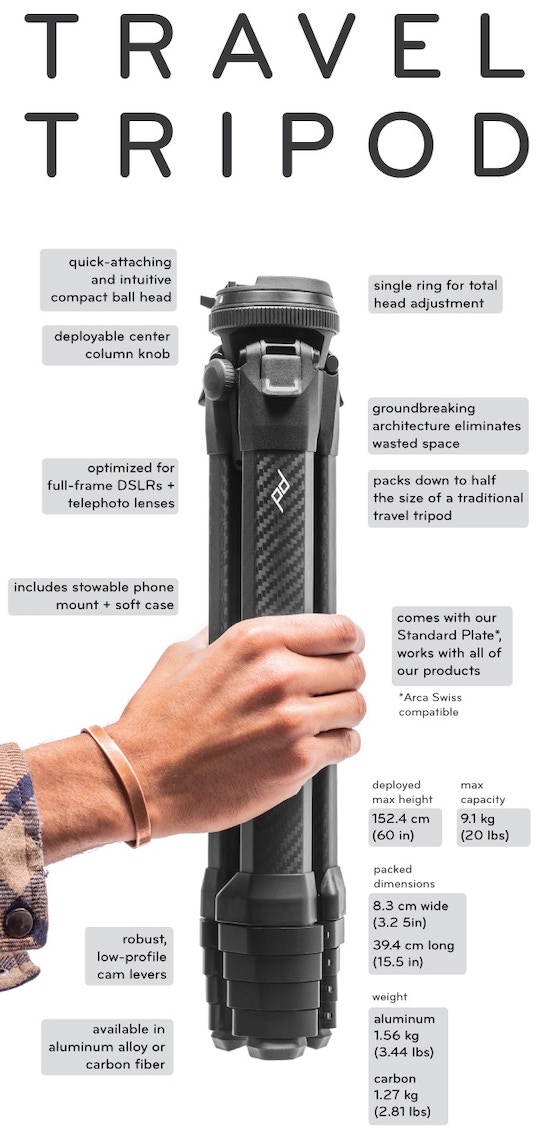 Peak Design Unveils The Next Generation of Camera Tripods New Travel Tripod Promises to Redefine Product Category for Years to Come
San Francisco, CA (May, 2019) – After multiple award-winning bag releases, Peak Design, the worldwide leader in crowdfunding and everyday carry solutions, is proud to disrupt yet another product category—the camera tripod. More than four years in the making, Peak Design's newest release, Travel Tripod, is a ground-up reexamination of camera tripod design to produce the world's most portable, packable, and easy-to-setup tripod for professionals and first-time tripod owners alike.
Peak Design directly addressed their biggest rub about traditional tripods: spatial inefficiency and unnecessary bulk. Peak Design's goal was to eliminate the dead space within a tripod, an ever-present inefficiency that often doubles or triples the effective diameter of a packed tripod. Peak Design engineers reworked Travel Tripod's legs and center column to nest perfectly together in order to achieve a total packed diameter of just 3.25 inches—roughly the diameter of a water bottle. The result is a tripod that deploys to 60 inches tall while taking up less than half the volume of its competitors.
"During my travels in 2008 I began wondering why on Earth my tripod was so big. The thing was full of negative space and knobs, and I felt like something designed for portability could do much better," commented Peak Design CEO, Peter Dering. "I quickly realized that anything short of a complete design overhaul would fail to meet my criteria of the perfect travel tripod. It took years of development but the outcome is a camera tripod that seamlessly integrates into all aspects of travel and adventure."
Travel Tripod is among the quickest-to-deploy and most intuitive to use tripods on the market. Peak Design developed a system of non-inverted legs that rapidly deploy along an aligned system of locking cam levers. With three swift hand movements, the legs can be fully extended and ready for action.
Peak Design also optimized the Travel Tripod ball head to operate more fluidly than traditional tripod heads while still prioritizing spatial efficiency. Travel Tripod eliminates bulky and confusing knobs with a single adjustment ring for simple and smooth 360-degree adjustment. Peak Design's proprietary quick-release plate technology facilitates lightning-fast camera attachment—easily accommodating a full frame DSLR with telephoto lens—and is compatible with Peak Design carrying equipment and with Arca Swiss tripod dimensions. Furthermore, Travel Tripod's ball head measures just 3.25 inches in diameter, keeping it aligned with the packed profile of the tripod's legs for exceptionally compact carry.
In addition to a thorough rethinking of a tripod's architecture and user interface, carefully considered material choices and construction techniques provide the stability and vibration dampening demanded by avid photographers. A built- in universal phone mount, bubble-level, hook for counterweights, and included soft case round out a packed feature list that fans of Peak Design have come to expect.