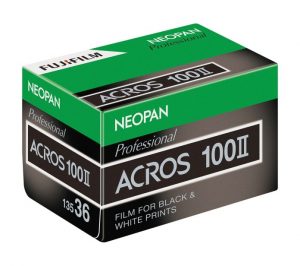 Fujifilm is bringing back the Neopan 100 Acros black and white film by the end of 2019:
UNSURPASSED IMAGE QUALITY, WORLD-CLASS FINE GRAIN
TOKYO, June 10, 2019
FUJIFILM Corporation (President: Kenji Sukeno) announced a new generation of  NEOPAN 100 ACROS II, black-and-white film. This 100 ISO film will deliver unsurpassed resolution, fine grain and sharpness, with exceptional detail satisfying a broad range of shooting scenarios and exposures.  The 35mm and 120 format film will be introduced in Japan this fall, with other markets to follow, based upon demand.
As the demand for film rapidly decreased over the past decade and raw materials became difficult to obtain, it caused the company to discontinue marketing black and white film. Thanks to consumer feedback, particularly from millennials and GenZs, who have become the new film enthusiasts, the market is changing once again. To meet the needs of this new market, Fujifilm is reviving "ACROS II".
NEOPAN 100 ACROS II employs Fujifilm's proprietary Super Fine-Σ technology along with ISO 100. This results in unsurpassed fine grain, sharpness and exceptional three-dimensional gradation even in bright highlights, when compared with the original NEOPAN 100 ACROS.
As a leading company in the imaging field, Fujifilm will never stop meeting the challenges of the diverse needs of customers in a wide range of fields, from analog to digital, and continue to provide improved products and services.