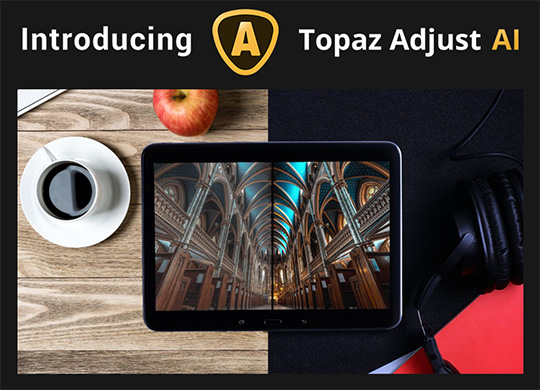 Topaz Labs introduced the new Adjust AI:
"With just one click, Topaz Adjust AI leverages the power of artificial intelligence to transform your photos into something incredible. Our AI-powered modes bring out colors, shadows, details, and more to make your photos as vivid as intended—all in one step."


Topaz Labs Adjust AI has a special introductory sale for just $59.99 ($20 off the original price). This sale will end on July 8th.
Additional information:
Joining Topaz Labs' line-up of AI-powered photo editing applications, Adjust AI helps users achieve brilliant photo contrast, clarity, detail, and color through artificial intelligence.
ADDISON, TX (June 20, 2019) --- Topaz Labs released today a major new product to its AI-powered photo editing offerings, introducing Adjust AI. This new application is available as a standalone solution, as well as a plugin for Adobe Photoshop, Adobe Lightroom, and Topaz Studio.
After months of training and testing, Adjust AI leverages machine learning to analyze and transform ordinary photos into lively, vivacious images that would normally require time-consuming, manual adjustments. Adjust AI is the fastest way to achieve ultimate clarity, detail, contrast, and an eye-catching aesthetic with minimal user input.
Application Details
With Adjust AI, users can:
Utilize two AI-powered modes (Standard and HDR Style buttons in the right panel) to automatically bring out colors, shadows, details, and more to make photos as vivid as intended--all in one click.
Utilize advanced shadow & highlight recovery that reveals lost detail.
Utilize Topaz Clarity's intelligent, proprietary technology to manipulate macro, midrange, and overall contrast without halos or noise, all while maintaining a natural feeling and tonality in your image.
Move Topaz Detail sliders to independently adjust small, medium, and large amounts of detail inside the shadows and highlights of your image.
Apply new & modern presets for versatile effects.
Create and save custom presets for a faster workflow.
Adjust AI caters to professionals and enthusiasts alike. Users can utilize the output of the AI to speed up workflow as well as take advantage of a range of new, modern presets. Adjust AI also includes the ability to create and save your own variations in order to create presets bespoke to you.
"With Adjust AI, we hope our users will be impressed by the versatility and depth of the effects possible with this single application," said Albert Yang, CTO of Topaz Labs. "In our first development meeting for Adjust AI, our mission was clear: Let's develop an intelligent application to take photos from dull to dynamic in less than 10 clicks. We wanted to create a solution that offers stunning image enhancement, but doesn't consume all of the user's time. Adjust AI harnesses really powerful AI processing, but also allows for light, masterful finishing touches, so you can truly transform a lackluster image into an eye-catching photo that doesn't look over-processed."
Recommended Workflow
To achieve the best results with Adjust AI, Topaz Labs recommends the following workflow:
1. Import photo. Use JPEG to RAW AI to restore RAW editing capabilities if needed.
2. Apply noise reduction with DeNoise AI.
3. Make any composition, cropping, or straightening adjustments desired in Topaz Studio.
4. Apply Adjust AI and make any further tweaks.