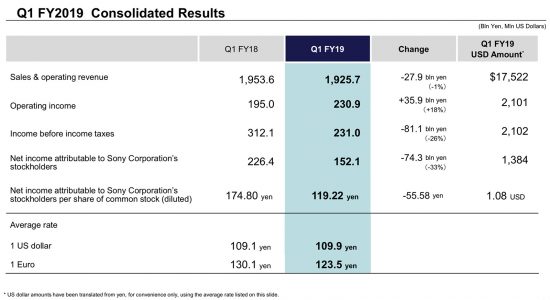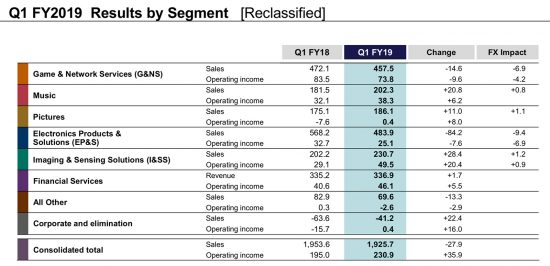 Sony Q1 FY2019 financial results are now available online (Sony cameras and other electronics are reported in one and it is hard to tell how well their camera segment is doing):
Sony cuts revenue forecast for 2019 on slowing sales (Financial Times):
"Sony has cut its annual revenue forecast that was set only three months ago after lowering its sales outlook for the PlayStation 4 gaming console, televisions and smartphones. The lower guidance on Tuesday came after the Japanese entertainment and technology group reported a 1.9 per cent year on year drop in revenue to ¥1.9tn ($17.5bn) during the fiscal first quarter ending in June 2019. Quarterly net profit fell 33 per cent to ¥152bn."
Sony cuts sales forecast as almost everything starts to shrink (Bloomberg)
"Sony Corp. cut its full-year revenue outlook as sales of PlayStation 4 games console, televisions and Xperia smartphones declined faster than the company originally anticipated. The electronics maker lowered its own sales target for the year ending March 2020 to 8.6 trillion yen ($79 billion), or 200 billion yen less than a forecast in April, the Tokyo-based company said in a statement Tuesday. The profit outlook was left unchanged. Sony is predicting annual operating profit will drop for the first time in three years as it steps up investments in games and semiconductors."
Sony Q1 earnings beat estimates, revenues fall Y/Y (Yahoo):
"Sales at Imaging & Sensing Solutions (I&SS) were up 14.1% to ¥230.7 billion due to significant increase in sales of image sensors for mobile products. The segment's operating income was ¥49.5 billion compared with ¥29.1 billion in the prior-year quarter."
---