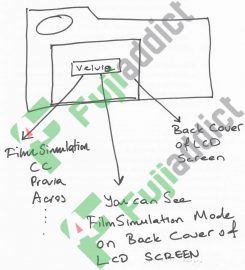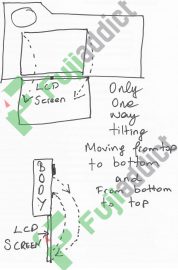 FujiAddict reports that the rumored Fujifilm X-Pro3 camera could come with a new and completely different flip screen that "will just have shooting information on it until you flip it down and then you can use a more traditional screen, which purists will love":
As you can see,X-pro has one way tilt screen like on my fantastic drawing. When you hold the camera (yes I hold a sample X-Pro3), you can see a cover and  run the camera you can also see film simulations on the middle of cover (provia,velvia,CC…)

As I Told you, Xpro3 has only one way tilting screen.Moving from top to bottom and from bottom to top. After you open the cover, you can see LCD screen. No moving from right to left or from left to right (very strange).

It was a sample camera. May be they can change and add motion from right to left or from left to wright on final camera.
The screen design could be similar to the concept camera seen here:
Via FujiAddict