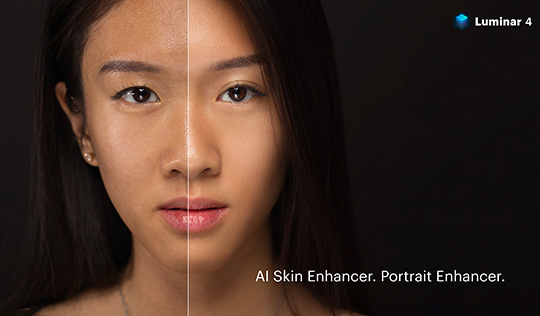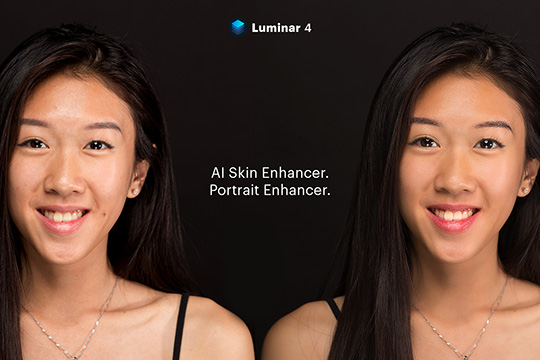 After the AI Sky Replacement and AI Structure, Skylum announced today another feature from the upcoming Luminar 4 – new AI skin and portrait enhancers.
Additional information on the new features (Luminar 4 pricing can be found here):
What is AI Skin Enhancer?
Thanks to the AI technology, faces and skin are automatically detected throughout a photo. AI Skin Enhancer allows photographers to automatically remove various skin imperfections like acne, freckles and moles, in addition to smoothing the skin. At the same time, skin pores and other small details like hair and eyelashes are preserved.
Gone are the days of manually highlighting skin and face areas with tedious selections and masks. With AI Skin Enhancer, a person's skin is retouched automatically, but you retain complete control over the strength of the improvement.
Perfect for studio beauty shots or events like weddings, AI Skin Enhancer will help bring your creative vision to the forefront. Photographers can deliver a professional look in mere seconds that your portrait's subject will never forget.
What is Portrait Enhancer?
Portrait Enhancer is a collection of tools that help improve the photo of any person in a natural, yet pleasing way. These tools are brand new to Luminar 4 making it now possible to highlight and improve primary features of a person's face.
This tool includes adjustments for eight areas:
Face-aware Lighting: Adjust lighting for a face that doesn't impact the rest of the scene. Get the emulation of a flash or reflector aimed at a face.
Eye Improvement: Enhance and make a person's eyes more expressive and sharp as well as whiten pupils.
Dark Circle Removal: Easily remove dark circles or shadows below the eye.
Red Eye: Fix red eye problems caused by flash.
Face Contouring: Make the face thinner, achieving more attractive results in your portrait.
Eye Enlargement: Is your portrait subject not fully awake yet? Squinting in bright light? Bring their eyes to life by gently increasing the size of their eyes.
Eyebrows: Thicken and darken brows for stronger framing of the eyes.
Lips and Teeth Enhancement: Bring more color and depth to a person's lips, and take advantage of teeth whitening tools.
With Portrait Enhancer, you can achieve a professional-looking portrait and make facial features more expressive with just a few sliders. There's no need for selections or masks, AI technology instantly targets the right areas. Plus built-in presets easily adapt to each portrait making this tool the perfect balance of speed and precision.