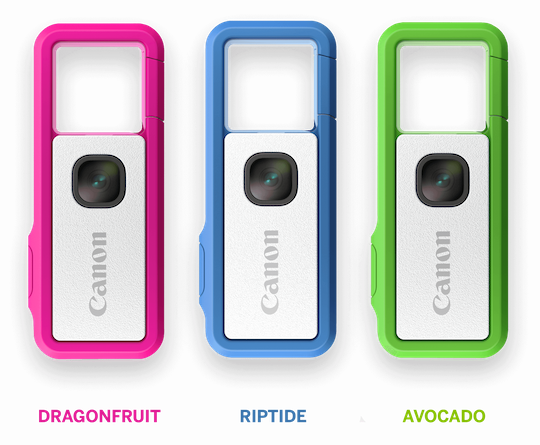 Do you remember the Canon camera concepts I reported back in June? One of the listed cameras is now officially announced and pre-orders are open at Adorama, B&H, Amazon. Here are the details:
13MP CMOS Sensor
Built-In Clip/Carabiner-Style Design
Multi-Mode Dial, Photo/Video Switching
Optional Faceplates to Customize Look
Switch from photo to video with multi-mode
Waterproof and shockproof
Lightweight and compact
Built-in WiFi and Bluetooth to connect to Canon Mini Cam App
Interchangeable faceplates for color and design customization
One year warranty
Video Resolution: 1080p @ 60fps, 1080p @ 30fps, 720p @ 30fps (supports Live View Recording)
Aperture: f/2.2
Dimensions: 4.4 inches (W) x 1.8 inches (H) x 0.7 inches (D), 110.5 mm (W) x 45.2 mm (H) x 18.5 mm (D)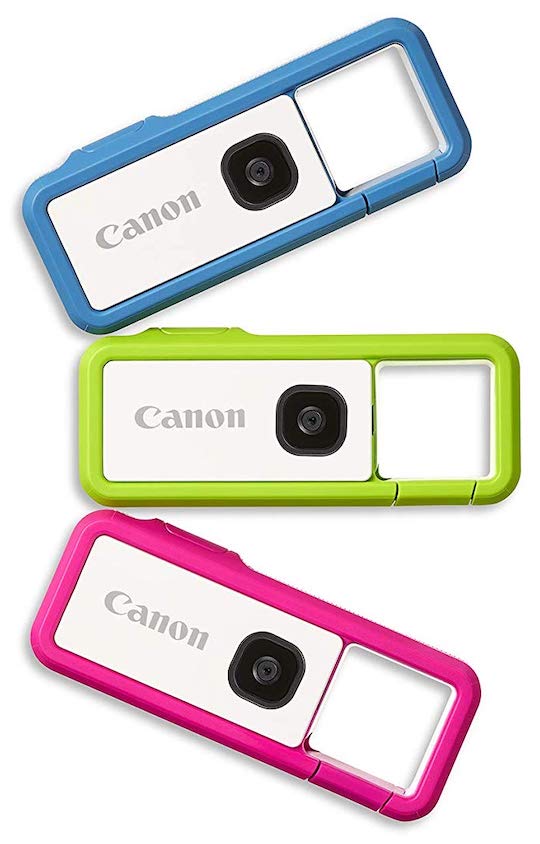 MELVILLE, NY, October 10, 2019 – Your activity of choice should not limit you on your quest to #RECtheWorld – from jumping on a trampoline, biking down a mountainside, screaming on a roller coaster or feeling the beat at a music festival. Down for just about anything, Canon U.S.A., Inc., a leader in digital imaging solutions, is excited to announce the IVY REC Clippable Outdoor Camera. Made to go anywhere while capturing those larger-than-life moments – this new camera is made for adventure.
Great for the outdoors, the clippable and wearable design allows users to wear it on a belt or bag and the clip doubles as a viewfinder – eliminating the potential to crack a screen. Simple to use with one click capture for both photos and videos, the IVY REC pairs with the optional Canon Mini Cam app1. When paired with a compatible mobile device2 such as a smartphone, you can keep informed about important settings including battery life of the IVY REC camera, remaining image capacity for the MicroSD card, video recording resolution (720p or 1080p)3, and image size. You can also use the app as a live viewfinder to capture photos and videos, and even use it as a remote shutter with a timer. For photos and videos, the app lets you wirelessly transfer them to your compatible mobile device to print and share. The go-anywhere camera is also waterproof4, shockproof5 and lightweight.
"We have learned a lot about the IVY customer since we launched our first IVY product over a year ago –their unique shopping habits and what's important to them when it comes to consumer technology products," said Kazuto Ogawa, president and chief operating officer, Canon U.S.A., Inc. "We've worked tirelessly to implement this knowledge into the next generation of IVY products, the IVY REC, offering the younger generation consumer the opportunity to go where the moment takes them and capture them in an instant."
The Canon IVY REC comes in three colors: Riptide (Blue), Avocado (Green) and Dragon Fruit (Pink) and is scheduled to be available in October 2019 at an estimated retail price of $129.99*. For more information, please visit usa.canon.com.