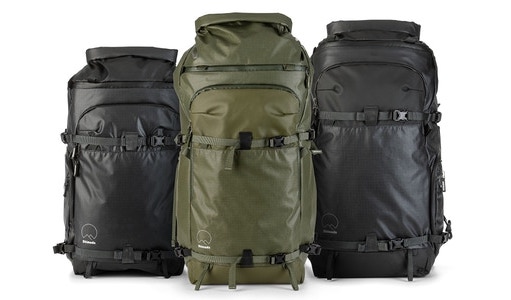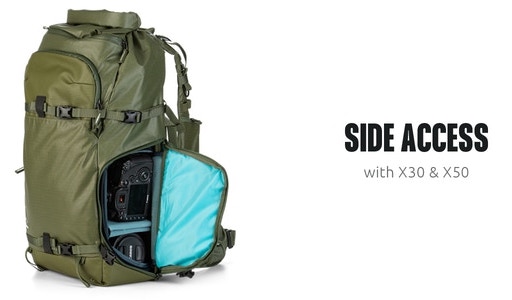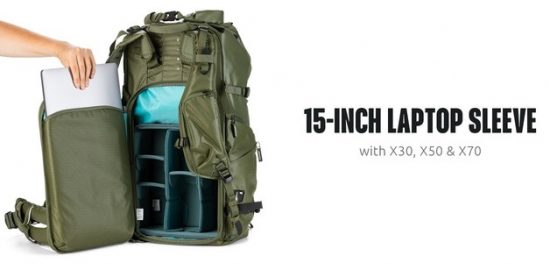 The new Action X Collection of camera bags from Shimoda launched on Kickstarter and already raised over $60k on the first day.
Additional info: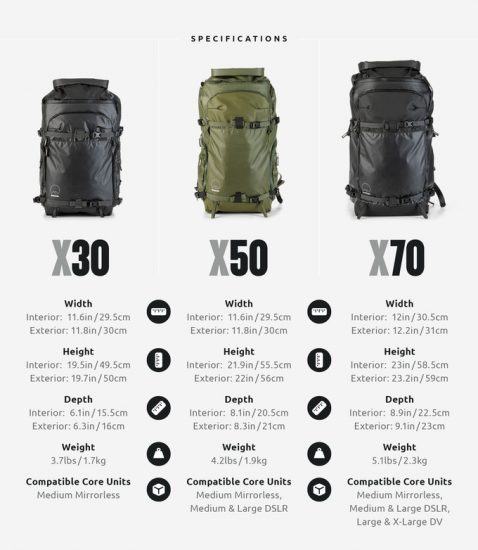 Press release:
WHITE PLAINS, N.Y. (PRWEB)October 15, 2019 Today marks the Kickstarter launch of Shimoda Designs' new line of adventure camera gear and accessories; Action X. Shimoda's new series targets ambitious, aggressive and athletic content creators who love to challenge – not only their photography skills – but the terrain and experiences the earth has to offer. Launched exclusively on Kickstarter, Action X includes 3 new backpacks, new Core Units, new rollers and an extremely versatile Top Loader that is sure to satisfy the needs of mountain bound creators.
Shimoda products are designed as a reaction to the pain, fatigue and suffering that results from carrying camera gear through the most extreme mountain terrain. The packs and Core Units have the flexibility to adapt to changing photo, video and survival gear needs, as well as changing weather conditions, and the tools to survive in them. Every component of the Shimoda system is designed and built for the most demanding adventure photo and video creators.
"I believe our products help support adventure photographers by providing a stronger and safer mountain experience. They genuinely make my time in the mountains more enjoyable and confident. We're launching Action X through Kickstarter because it's the best way to let people know and learn about our new products while allowing both our loyal community and excited early adopters to purchase at discounted introductory prices. Everyone who helped build the new line knows the Action X system makes capturing content more enjoyable. Through Kickstarter, more creators will have the chance to share in this experience while capturing even more spectacular content."
– Ian Millar, Shimoda Founder
As part of their Kickstarter campaign, Shimoda will donate 1% of the total sales generated to Give Back To Nature, a community of adventure and landscape photographers with a goal of planting 1 Million trees to landscapes destroyed by deforestation. Shimoda's goal is to generate enough sales through their Kickstarter campaign so their donation can plant over 10,000 trees.
Action X30 and X50
Both the Shimoda Action X30 and X50 were built for action and adventure photographers who need the most from their gear. The packs are best suited for agile fast-moving creators who travel and exist in terrain that is physically challenging not only to themselves, but also to the camera and video gear they choose to travel with.
Creators can keep their gear protected while still having access to it in challenging terrain via the large fast-access side-panel. Or when they have more time to set up a shot, they can use the main rear-panel opening. A volume-adjustable roll-top lets users pack their gear according to the needs of the day ahead and helps ensure a compact and stable fit.
"By far the most versatile camera bag I've ever had. I have the 30L but with the expandable roll-top it feels more like 50L. I managed to squeeze in my overnight hiking gear alongside a Medium Core Unit, and it handled the weight amazingly. I couldn't dream of doing that with my previous bags!"
– Jess Bonde,
Adventure, Travel
and Lifestyle Photographer
All Action X Series packs feature:
Adjustable torso-height
Expandable Roll-Top with 7L of extra storage
15-inch laptop sleeve
Removable/Swappable Harness Straps compatible with the Women's Strap Collection as well as "Extra Cushion" Plus Straps
Two tripod or water bottle pockets
Large side-access opening
Removable waist belt
TPU ski straps
Removable helmet holder
Padded, shoulder strap mounted phone pocket
Shoulder strap mounted water bottle or accessory pocket
Numerous accessory attachment points and straps
Two heavy duty carry handles
Weatherproof YKK SplashGuard zippers
All of these features contribute to the Shimoda Action X30 or X50 being a perfect companion for any action-driven adventure photographer or filmmaker.
"Ian has outdone himself with the Action X50 bag. It's fantastic. So many great features… the sliding magnetic clip, the expanding pocket on the harness… we (Jay) were both finding all kinds of little hidden gems in this bag. We're like kids in a candy store. Jay can't wait to try it out in Iceland next week. Awesome job – as always."
– Varina Patel,
Adventure Photographer
New and Updated v2 Core Units
Shimoda's newly revised Medium Mirrorless Core Unit v2 is specifically designed to work with the X30. Its depth easily accommodates non-gripped Mirrorless and DSLR bodies.
The updated v2 Medium and Large DSLR sized Core Units are designed to match perfectly with the X50. The DSLR depth is built to accommodate gripped bodies whether DSLR or Mirrorless and are ideally suited for those wishing to carry compact video setups with a cage or those using L-Brackets.
The updated v2 Core Units now feature an integrated side-access point in the Core Unit sidewall. This perfectly connects with the side-access panel of either the X30 or X50 backpacks. Along with the top-quality build and easy-to-use divider system, each Core Unit now houses a lightweight aluminum frame around the rim to provide more efficient weight distribution and side-wall support. This contributes to a more stable load and energy-saving user experience.
Action X70 and DV Core Units
Rounding out Shimoda's adventure-bound backpack line is the new and highly requested Action X70 backpack, an expandable 70-liter adventure bag designed for demanding Cinematographers and "Capture-it-all" multi-medium content creators.
The large capacity of the X70 coupled with the new, extra-deep DV (Digital Video) Core Units (available in Large or X-Large) offers users a larger, Cine camera set-up that's ready to go right out of the bag. Wildlife or sports shooters will appreciate its ability to pack and protect a super-telephoto lens. Overnight adventurer enthusiasts will be more than satisfied with its ability to carry a Core Unit plus a lot of camping gear.
Each side of the Shimoda Action X70 features a very large, expandable, zipper-sealed pocket. This is designed to easily accommodate tripods, water bottles, gimbles and other gear that can be a challenge to pack. Just like the X30 and X50, it also has TPU ski straps, a removable helmet holder, adjustable torso-height, shoulder strap mounted phone or accessory pockets, and a removable belt. All these features contribute to the Action X70 being a must have for any adventure photographer with seriously big ambitions.
"As a traveling adventure ski photographer and filmmaker, my backpack is my tool storage and office. I have used most other brands, had custom backpacks made and spent way too much time attaching extra storage to other packs. The X70 is the closest pack I have used that does everything I need. Expandable in all the right ways. And, most importantly- it's comfortable as F**K when it's loaded down with 50lb's of gear."
– Adam Clark,
Adventure Photographer
Shimoda Top Loader
The all-new Shimoda Top Loader is possibly the most versatile bag in the entire Shimoda ecosystem. It was designed for quick access to Mirrorless and DSLR cameras coupled with professional zoom lenses. It can also fit compact Drones like the DJI Mavic. In its normal configuration, the bag fits a camera with an attached lens up to 24-70mm 2.8. By unzipping the padded bottom extension, you can comfortably fit the camera with an attached 70-200mm 2.8, or a 24-70mm with the lens hood extended.
The real beauty of the Top Loader is how it transitions seamlessly between shooting styles.
You can carry the bag by itself one of two ways: either with the included shoulder strap or attached to your belt. This provides an excellent low-profile, stripped-down way to carry your professional camera and lens.
'Having the ability to easily access a camera on my chest while traveling in the backcountry by snowmobile, allows me to get more shots – more often. In the past I would have to remove my backpack to access my gear, sometimes missing those special mountain moments'
– Scott Serfas,
Professional Action Sport
Photographer
Adding to the excitement is in the way the Top Loader pairs with Shimoda's backpacks, especially the new Action X series, for four more ways to carry:
First: you can attach the bag to the waist belt of the pack to provide quick storage for your camera while shooting.
Second: with the use of the optional to purchase Accessory Straps, you can attach it to the chest so that it doesn't interfere with your range of motion while walking around.
Third: if you'd prefer the Top Loader be more integrated, you can actually position it inside an Action X30 or X50 pack to be accessed quickly through the side zipper. In this instance, it acts like a super-adaptable Core Unit.
Fourth: once you get to camp, simply leave your large backpack behind, remove just the waist belt, and attach the Top Loader to it for a comfortable and supportive lightweight carry option to explore with.
You can carry the bag by itself one of two ways: either with the included shoulder strap or attached to your belt. This provides an excellent low-profile, stripped-down way to carry your professional camera and lens.
Shimoda New Carry On and DV Rollers
Finally, Shimoda has revamped its current Carry On Roller plus introduced a new size to accommodate their new DV Core Units. Both rollers share the same ingenious 'doctor-bag' style opening that Shimoda users love. The retracting access allows the trolley's footprint to remain minimal while either open or closed.
Shimoda made a bigger DV-compatible roller because digital video content creators needed a solution to transport their gear and stay cool while doing it. Shimoda's solution is a roller that can be used in travel and studio scenarios while accommodating the tools video creators need. It's also ideal for those with larger DSLR set-ups or if you are just in need of larger volume and wheeled travel bag.
"We were excited when Ian first delivered the Explore Series in 2017, but now we are floored with his latest effort. The energy and positive feedback being shared by everyone who has had a chance to use the series has been overwhelming. It's not only a beautiful design but the functionality is on another level."
– Peter Waisnor,
Vice President, Tenba
and Shimoda Designs
The Carry On Rollers are constructed with a Nylon Carbonate PU coated shell providing extra-durability and incredible water resistance if you happen to get caught walking or waiting in the rain. Oversized YKK zippers promise longevity and durability over the life of your roller. Increased ground clearance comes via large 100mm, shock-absorbing wheels that remain quiet when rolling around town; yet have an aggressive tread if you find yourself in less developed environments. A new outside pocket system is easily accessible while rolling around airports and streets. The side-pockets have passport, phone and accessory sleeves; the latter being ideal for books, water bottles or even a tripod and gimble. The lower profile pockets are particularly convenient for meeting international carry-on compatible dimensions.
All Shimoda Rollers are Core Unit-compatible, allowing creators to switch from pack to roller and back with minimal effort. Their modular nature lets you find a suitable balance when packing personal items and camera gear. Of course, like all Shimoda products, the rollers have been developed and built to exceed the needs and the unpredictable environments adventurous creators find themselves in when traveling.
Shimoda Will Offer Women's Straps at No Charge
To better serve their female supporters, Shimoda will be offering their industry-first removable Women's Straps at no charge to female customers who order a backpack. These straps were developed with a team of female shooters across the globe to create a uniquely comfortable fit, with their custom contours and exclusive twin sternum straps. Available in three styles — Simple, Simple Petite, and Tech — the Shimoda Women's Straps provide unmatched comfort and fit. Female supporters will now be able to choose their straps of choice at the end of the campaign.