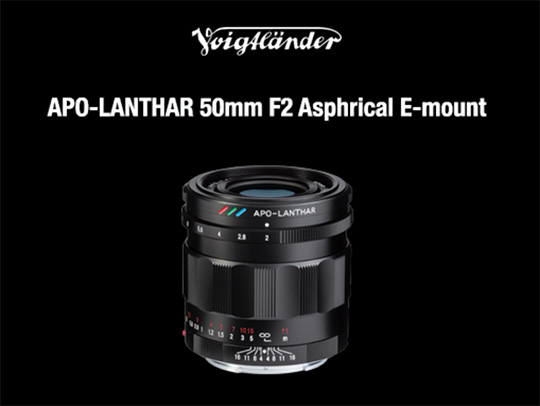 The new Voigtlander 50mm f/2.0 APO-LANTHAR mirrorless lens for Sony E-Mount will start shipping in December. The suggested retail price in Japan (tax not included) is ¥120,000 (around $1,200).
Update – the lens is now available or pre-order at Adorama.
Additional information:
Employs an apochromat design that reduces the axial chromatic aberration of RGB, which constitutes the three primary colors of light, to zero. The 60 years since Cosina was founded, the technology cultivated 20 years after the launch of the Vogtlender lens was put together to pursue ultimate performance. It combines performance as the best standard lens in the history of Vogtlender, and is compact and easy to handle.
Main features:
Sony E-mount compatible electronic contacts are installed, and the lens usage is reflected in the Exif information of the shooting data. The built-in distance encoder supports 5-axis image stabilization on the camera body side.You can also enlarge the viewfinder by operating the focus ring.
Optimized optical design A full-size image circle is secured and an optical design optimized for the Sony E-mount sensor is adopted. High resolution is maintained up to the periphery of the screen, and phenomena such as color covering are also suppressed.
Apochromat design The on-axis chromatic aberration and lateral chromatic aberration are thoroughly suppressed in order to support the current high-pixel digital sensor.
12-diaphragm diaphragm blades that can be used to express the bokeh are not only open F2 but also have a special shape that becomes circular even at F2.8. It is possible to draw using "ball bokeh" such as point light source.
Manual focus for reliable focus Focusing with smooth operation feeling is realized by adopting a total metal helicoid unit processed and adjusted with high accuracy and high-quality grease that generates moderate torque. Subtle focus adjustment is possible.
Lens specifications:
| | |
| --- | --- |
| Focal length | 50mm |
| Aperture ratio | 1: 2 |
| Minimum aperture | F16 |
| Lens configuration | 10 elements in 8 groups (open aperture F2, F2.8 circular aperture) |
| Angle of view | 46.5 ° |
| Number of diaphragm blades | 12 sheets |
| Minimum shooting distance | 0.45m |
| Maximum shooting magnification | 1: 6.46 |
| Maximum diameter x total length | φ62.6 × 61.3mm |
| Filter size | φ49mm |
| weight | 364g |
| Lens hood | Attached |
| Electronic contacts | Yes |
| Focus expansion function | Correspondence |
| Exif information: | Correspondence |
| Lens correction selection | Possible |
| 5-axis body shake | Compatible (limited to 5-axis compatible bodies) |
| Other: | With aperture switching mechanism |
Press Release:

Cosina Co., Ltd. will release the APO-LANTHAR 50mm F2 Aspherical E-mount MF lens for Sony E-mount in December. The suggested retail price is 120,000 yen excluding tax.
MF lens incorporates an apochromatic design aimed at suppressing the axial chromatic aberration and various aberrations in the lens design. It is said that it has been optimized for the image sensor of the Sony E-mount camera, and appeals for its high resolution and contrast reproducibility.
The lens configuration is 10 elements in 8 groups (5 anomalous partial dispersion glasses and 2 double-sided aspheric lenses).
It employs a floating mechanism that maintains high image quality from close range to long range.
There are 12 diaphragm blades, and it adopts a special shape that keeps a circular shape not only at F2 when it is open but also at F2.8, and it is said that it can also create works that take advantage of the blurred shape of the point light source.
The company says it is a lens that aims to achieve both ultimate optical performance and compactness, and the figures in the MTF diagram are actually measured values ​​based on mass-produced products, not design values.
It has electronic contacts and supports recording of shooting data using Exif information. Further, and as also corresponds to the camera shake correction operation in the models are equipped with camera shake compensation by a built-in distance encoder. In addition, it is also possible to enlarge the display by operating the focus ring.
In addition, an aperture switching mechanism is mounted, and the aperture ring can be made stepless. As a result, it can handle video recording.
The E mount lenses that bear the APO like this lens include the macro lenses "MACRO APO-LANTHAR 65mm F2 Aspherical E-mount" and "MACRO APO-LANTHAR 110mm F2.5".
2019 marks the milestone of 60 years since 1959, when the company was established as a lens processing plant (Nikko Corporation), and the 20th year since the launch of the Vogtlender brand products (1999). "APO-LANTHAR 50mm F2 Aspherical E-mount" is also positioned as a commemoration of this anniversary. The 50th anniversary product was NOKTON 50mm F1.1 (VM mount).
Sample photos (update – more sample photos can be found here):
---
Now available: the new Skylum Luminar 4 & ON1 Photo RAW 2020