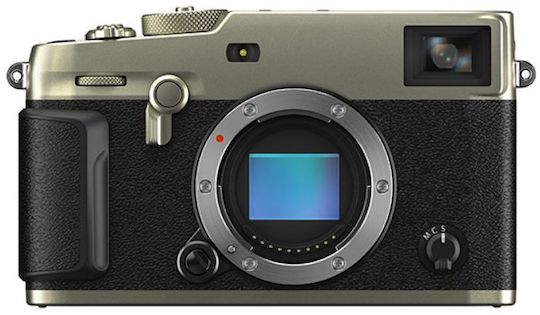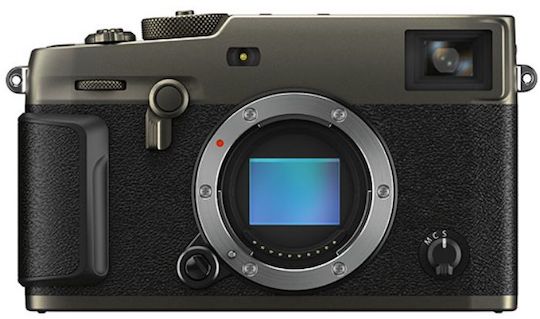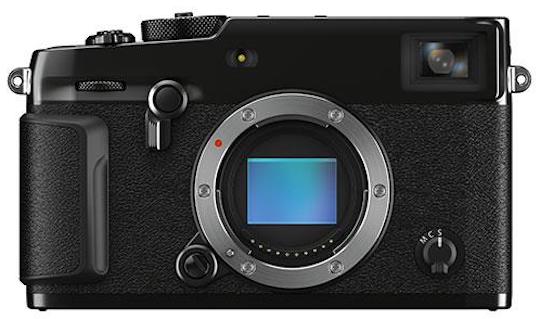 Additional information the new Fuji X-Pro3 camera – the shipment date is November 28. The price in Japan will be ¥235,950 (around $2100) for the black model and ¥263,450 (around $2426.64) for the other two models. Here is the updated full set of specifications and some new pictures:
The X-Pro3 uses the back illuminated 26.1MP X-Trans CMOS 4 sensor and the X-Processor 4 image processing engine for superb image & 4K video quality and autofocus performance.
The X-Pro3 uses an improved algorithm to enable autofocus at the minimum luminance of -6EV, which is near pitch-darkness. The camera features a new HDR shooting function, which combines multiple continuously shot images of different exposure levels to expand the dynamic range. The tool, designed to recreate the vast dynamic range of light conditions that exist in nature, produces natural tones without causing exaggerated amplification of colour tones.
The camera handles multiple exposures of up to 9 frames in the Additive, Average, Comparative Bright or Comparative Dark mode to combine images taken from multiple viewpoints or at different times into a single image. You can apply different Film Simulation modes to each of the frames to create a multi-layered collage.
The exterior of the camera body is made of titanium, which gives the camera additional strength and corrosion resistance. It is combined with premium quality coating giving it a sleek, elegant appearance. The internal framework of the camera body is made from magnesium alloy. Weather sealing has been applied at 70 points to give the camera advanced dust and moisture resistance. The camera is also capable of operating in temperatures as low as -10Åé, allowing users to be on location and not having to worry about the weather.
The X-Pro3 for the first time has an AF range limiter function, which has been available only on a limited number of lenses until now. You can select from two preset values or use the focus ring to specify any focus range. This gives the focus preset function available to all XF lenses.
Users can switch between the optical viewfinder (OVF), which provides a constant view of your subject without any time lag, and the electronic viewfinder (EVF), which allows you to check exposure while you shoot. The EVF uses a 3.69-million-dot organic EL panel with advanced display performance. The organic EL panel boasts a high contrast ratio of over 1:5000 and the maximum luminance of 1500cd/m2 to display the finest details even in shadows and highlights. It also covers 97% of the sRGB colour space, giving more accurate colour reproduction.
EVF display options in the BoostÅh performance mode now includes Smoothness priorityÅh where a black frame is inserted between each of the frames at approx. 100fps to provide a smoother appearance with a minimal sense of residual images, giving an equivalent refresh rate of approx. 200fps. This option is recommended when you are taking pictures of fast moving subjects and need to track the erratic motion.
The camera also features the Electronic Range FinderÅh function, in which a small EVF window is displayed within the OVF to help checking electronic settings. The EVF window displays live view, enlargement of an AF point and pictures taken, improving the usefulness of the OVF.
The 1.62-million-dot high-resolution tilting LCD touchscreen display, can flip approx. 180 degrees, allowing you to shoot from the hip, at ground level or with the camera above your head. The screen offers a wide angle of view and delivers high contrast yet natural colour reproduction to provide a clear and high quality view.
The rear 1.28-inch colour Memory LCD, protected with toughened glass, displays shooting settings regardless if the camera is turned on or not. The screen can be set in the ClassicÅh mode which displays Film Simulation, white balance and other image settings reminiscent of film cameras, or in the StandardÅh mode for displays shutter speed, ISO sensitivity, the number of remaining frames and other shooting settings in plain numbers and icons.
CLASSIC Neg mode has been added to the Film Simulation function, which simulates colour negative film traditionally chosen for everyday snapshots. The colours, precisely controlled for each level of brightness, create a rich chromatic contrast to add extra definition to the image.
The Black & White adjustment function, originally introduced to the X-T3 and X-T30 to apply warm and cool tones to monochrome images, has been updated as the Monochromatic ColourÅh function. The X-Pro3 now allows you to choose the key colour from a matrix of Warm / Cool tones and Magenta / Green hues, incorporating the rich gradation into your images to create photographs with a personal twist.
Clarity setting has been included as an image quality parameter to complement the existing Highlight Tone, Shadow Tone and Sharpness. Texture and outlines of subject can be accentuated or softened while retaining gradation of colours to control the overall look of a picture.
The Grain Effect function, which simulates the photographic film, has been evolved so that you can adjust strengthÅh and sizeÅh to attain a more precise control over graininess, instead of having just two options of strongÅh and weakÅh graininess in previous models.
Highlight Tone and Shadow Tone options, have been integrated into the Tonal CurveÅh setting so that you can intuitively adjust settings while checking the tonal curve.
Compatibility with 3rd party software has been improved so they can now read ratings given to pictures using the RatingÅh function.
The functionality of the QÅh quick menu has been improved. You can now choose the number of icons to be displayed in the menu from 16, 12, 8 or 4. TransparentÅh has been added as a new background option, allowing you to change the settings but ensuring you wonÅft miss a photo opportunity.
The X-Pro3 has a USB Type-C port (USB3.1 Gen1), to charge the cameraÅfs battery and transfer data.
Size : 140.5 x 82.8 x 46.1mm
Weight : 497g
Equipped with "X-series" 4th generation back-illuminated 26.1 million pixel "X-TransTM CMOS 4" sensor and high-speed image processing engine "X-Processor 4."
By evolving the algorithm, high-speed and high-accuracy phase-difference AF has been realized even in the low-light-6EV environment close to darkness. Smooth AF is possible by combining with the "focus limiter" function that can set any focus range in advance.
Further evolved the "multi-exposure shooting" function. Up to nine photos taken at different framing times can be combined into a single piece, so you can enjoy fantastic photo expressions. The exposure setting for the image to be overlaid can be selected from addition, average addition, comparative light, and comparative darkness.
For the first time as a Fujifilm digital camera, lightweight, high-strength titanium with excellent corrosion resistance is used for the body exterior. In addition, the use of a magnesium alloy that achieves high robustness and rigidity for the frame inside the body demonstrates excellent mobility and durability.
Dust and drip-proof structure with 70 body seals. Since it also has a low temperature resistance of -10 ℃, it can be used in harsh shooting environments and enables full-scale field shooting.
Equipped with the world's only "Advanced Hybrid Viewfinder". You can instantly switch between an optical viewfinder (OVF) that can capture the subject as it is and an electronic viewfinder (EVF) that allows you to shoot while checking the shooting conditions such as exposure.
EVF has newly adopted an organic EL panel with high resolution of about 3.69 million dots. In addition to the maximum luminance of 1500cd / m2, high contrast is also realized, so it is possible to accurately project dark and bright areas on the EVF. It also has faithful color reproducibility and demonstrates high visibility.
A new afterimage reduction mode has been added as an EVF display setting. It achieves a smooth EVF field of view equivalent to about 200 frames per second with a reduced afterimage, and is ideal for shooting quickly following a moving subject.
Equipped with an "electronic range finder" function that can simultaneously display a small EVF on the OVF. While capturing the subject as it is an OVF, the compact EVF can be used to zoom in on the in-focus area for high convenience.
Using the "High Dynamic Range (HDR) Shooting" function, you can shoot photos of natural colors with little overexposure and underexposure by combining multiple images with different brightness.
In addition to "Film Simulation" that enables a variety of colors, "Classic Negative" mode has been newly added. A high-contrast 3D expression is possible.
The popular "Monochrome Adjustment" function installed in the "FUJIFILM X-T3" and "FUJIFILM X-T30" has been updated as "Monochrome Color". You can select your favorite color from a wide range of color gradations by adding magenta and green to the existing warm and cold colors.
The "grain effect" function that reproduces the unique graininess of photos taken with film has been further evolved. By changing the settings of "Strength" and "Granularity", the density and roughness of the grain can be adjusted.
In addition to the existing "Color Chrome Effect", the new "Color Chrome Blue" is installed. Deep color reproduction and gradation reproduction are possible for blue subjects such as blue sky, so you can enjoy a variety of photographic expressions.
Equipped with about 1.62 million dots tilt type touch panel LCD monitor and stored inside the back of the body. Since this LCD monitor can be rotated approximately 180 °, you can shoot in various styles from high angle to low angle. It also has excellent visibility due to high resolution, wide viewing angle, and high contrast.
The new 1.28-inch color memory LCD monitor on the back of the body allows you to check shooting information regardless of whether the power is on or off. You can select "Classic" mode to check the film simulation settings with the photographic film package icon, and "Standard" mode to check the shooting settings such as shutter speed and F value.
You can switch the number of icons displayed on the Quick Menu "Q Menu" from 4/8/12/16.
USB terminal adopts "Type-C (USB3.1 Gen1)" standard. The main unit can be charged by wire.
Effective pixels: Approximately 26.1 million pixels
Image sensor: 23.5mm x 15.6mm (APS-C size) X-Trans CMOS 4 sensor, primary color filter adopted
Battery: Rechargeable battery NP-W126S (lithium ion type)
Number of still images that can be shot: Approx. 370 (EVF in normal mode), 440 (OVF in normal mode)
Body external dimensions: Width 140.5mm x Height 82.8mm x Depth 46.1mm (Thinnest part 34.8mm)
Weight: 497g (including battery and SD memory card) / 447g (main unit only)
Recording media: SD memory card (up to 2GB) / SDHC memory card (up to 32GB) / SDXC memory card (up to 512GB) UHS-I / UHS-II compatible, video speed class V30 compatible
Startup time: about 0.4 seconds
Sensitivity
Standard output sensitivity: AUTO1 / AUTO2 / AUTO3 / ISO160-12800 (1 / 3-step increments)
Extended mode: ISO80 / 100/125/25600/51200
Continuous shooting
Approx. 11 frames / second [Continuous recording number] JPEG: 145 images Reversible compression RAW: 42 images Uncompressed RAW: 36 images
Approximately 8.0 frames / second [Number of continuous recordings] JPEG: 200 sheets Lossless compression RAW: 46 sheets Uncompressed RAW: 39 sheets
5.7 frames / sec [Continuous recording number] JPEG: Endless lossless compression RAW: 62 sheets Uncompressed RAW: 43 sheets
Approx. 5.0 frames / second [Continuous recording number] JPEG: Endless lossless compression RAW: 79 sheets Uncompressed RAW: 46 sheets
Approximately 4.0 frames / second [Number of continuous recordings] JPEG: Endless lossless compression RAW: 134 sheets Uncompressed RAW: 53 sheets
About 3.0 frames / second [Number of continuous recordings] JPEG: Endless lossless compression RAW: Endless Uncompressed RAW: 71 images
Approx. 30 frames / second (1.25 X crop when electronic shutter is set) [Continuous recording number] JPEG: 60 sheets Lossless compression RAW: 35 sheets Uncompressed RAW: 33 sheets
Approx. 20 frames / second (1.25 X crop when electronic shutter is set) [Continuous recording number] JPEG: 114 sheets Lossless compression RAW: 37 sheets Uncompressed RAW: 34 sheets
Approx. 20 frames / second (when electronic shutter is set) [Continuous recording number] JPEG: 79 sheets Lossless compression RAW: 36 sheets Uncompressed RAW: 34 sheets
Approx. 10 frames / second (1.25 X crop when electronic shutter is set) [Continuous recording number] JPEG: 500 sheets Lossless compression RAW: 48 sheets Uncompressed RAW: 39 sheets
Approximately 10 frames / second (when electronic shutter is set) [Continuous recording number] JPEG: 164 lossless compression RAW: 44 sheets Uncompressed RAW: 37 sheets
Video
[DCI4K (4096 × 2160)] 29.97p / 25p / 24p / 23.98p 200Mbps / 100Mbps up to approx. 15 minutes
[4K (3840 x 2160)] 29.97p / 25p / 24p / 23.98p 200Mbps / 100Mbps up to approx. 15 minutes
[Full HD (2048 x 1080)] 59.94p / 50p / 29.97p / 25p / 24p / 23.98p 200Mbps / 100Mbps / 50Mbps up to approx. 59 minutes
[Full HD (1920 × 1080)] 59.94p / 50p / 29.97p / 25p / 24p / 23.98p 200Mbps / 100Mbps / 50Mbps Continuous up to approx. 59 minutes
[Full HD (1920 × 1080)] High-speed video 120p / 100p 200Mbps Continuous up to approx. 6 minutes
Report: Fujifilm is the first camera company to add computational photography to a professional camera (X-Pro3)
Via Nokishita