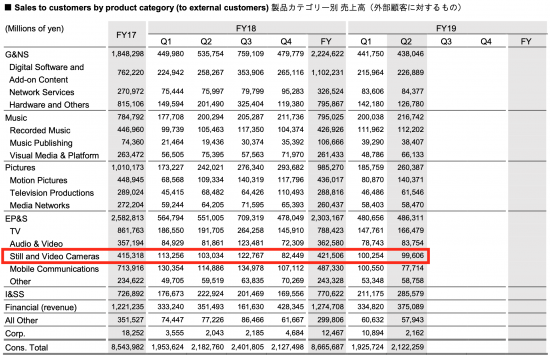 Sony's camera sales for Q2 FY2019 are down 3.5% compared to 2018. Unit sales are down as well (source).
Panasonic also recently released its latest financial results. Here are the details on the "Appliances Segment" that also includes cameras:
Sales decreased by 2% to 1,375.8 billion yen from a year ago. Despite increased sales of room air-conditioners in Asia and Europe as well as favorable sales in Commercial Refrigeration & Food Equipment in North America, overall sales decreased due to sluggish overseas sales of TVs and digital cameras. Operating profit decreased to 52.9 billion yen from a year ago due to the impact of lower sales mainly in TVs.
Ricoh's cameras are listed under the "Other" category in their latest financial results:
Increased revenues and earnings after factoring out removal of logistics business from consolidation, while earnings were up on expansion of domestic finance business and improved Smart Vision business profitability
Smart Vision business continued strong new product performance from Q1
Industrial Products business did well in automotive area, notably in vehicular stereo cameras
Canon recently reported that sales for the Imaging business were down 13.9% while profit were down 56.8%:
Canon Q3/2019 financial results for Imaging business: sales down 13.9%, profit down 56.8%