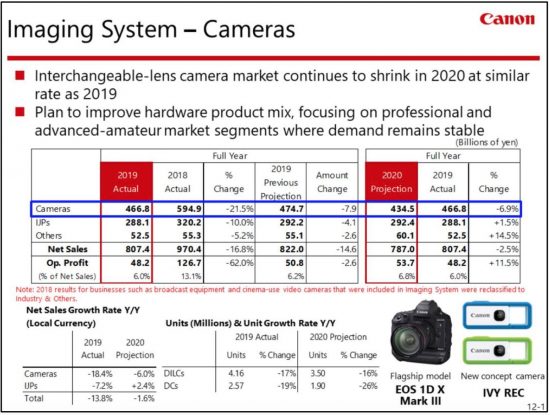 Canon's 2019 financial results are out – sales and profits are down, but Canon used the opportunity to confirm their plans for a high-end mirrorless camera with a new sensor, new image-processing engine, and advanced features (see all previous Canon rumors):
In 2019, the interchangeable-lens camera market shrank 15% to 8.8 million units, as sales of entry-level models, which are being impacted by smartphones, continued to contract. We were also impacted by this.
In 2020, although we expect market contraction to continue at a similar rate and the market size to be around 7.5 million units, we also see stable demand for professional and advanced-amateur models.
Although we have launched two full-frame mirrorless cameras as well as ten dedicated lenses, our lineup is still insufficient. In order to recover from our late entry into the mirrorless camera market, we have plans to launch a model that incorporates a newly developed image sensor and image-processing engine that offer even more advanced features. We will work to raise our presence in the mirrorless camera category, leveraging large trade exhibitions around the world. Even amid increasing competition, we will expand sales of higher-end models driven by new products and aim for top market share even in the mirrorless camera market.
As for compact cameras, the market shrank 19% to 8.5 million units in 2019. We also posted a decline in unit sales that was in line with the market. In 2020, we expect the market to shrink 29% to 6.0 million units as major players have not launched any new popularly priced models. Although we expect our sales to continue to decline, we will work to improve profitability by focusing sales on high-margin G-series models.
Source: Canon, via CanonRumors