Topaz Labs Gigapixel AI v4.5.0


Topaz Labs released Gigapixel AI version 4.5.0 that lets you upscale photos up to 600%. The new version is on sale until Monday and you can get an additional 15% off with code RUMORS15 (coupon code valid for all Topaz products). This update includes a refreshed interface for a more seamless batch processing workflow, the ability to specify processing settings per item in the batch, as well as other tweaks and fixes. Major new features and improvements:
Update whole user interface to match DeNoise / Sharpen batch workflow
Add ability to specify different processing settings per item in the batch
New installer framework (can keep old one installed)
Add ability to auto-append enlargement mode to filename
Redesigned Preferences panel
Redesigned Save As and Batch Processing panel
Topaz Labs DeNoise v.2.1.3


Topaz Labs released DeNoise v.2.1.3 (you can get an additional 15% off with code RUMORS15 – valid for all Topaz products). Major new features and fixes:
Improved RAW support
Added back some view options (Swipe/slider view)
Fixed crash issues when using OpenVINO mode
Fixed issues with the edges of images not getting denoised
Fixed some crashes when saving certain files as TIFFs
Chroma noise reduction has an info box
Chroma noise reduction was simplified to one slider
Added option to cancel preview processing
Most progress displays should now animate smoother
Auto mode removed and replaced with checkbox
Various menu options fixes
Added golden color to controls when using Auto settings
Minor UI changes and improvements
ON1 HDR


ON1 announced a new standalone app: ON1 HDR for merging multiple bracketed photos into a single high-dynamic-range (HDR) image. It can also be used to edit a single photo to create a realistic HDR look by leveraging ON1's HDR and Dynamic Contrast Filters. ON1 HDR is currently available at an introductory special for just $39.99 (normally $49.99). A fully functioning 30-day free trial of ON1 HDR 2020 is also available for download now, no credit card required. A single purchase of ON1 HDR 2020 includes Windows and macOS versions, support for 11 languages, and allows for activation on five computers. This new HDR app works as both a standalone application and as a plug-in for Adobe Lightroom Classic.


You can get 20% off ON1 with code NIKONRUMORS.
The latest deals on photo editing software:
Skylum Luminar 4


From April 10 through April 14, Skylum Luminar 4 will have the biggest discount since its release: $15 off on Luminar and you can get an additional $10 off with coupon code PHOTORUMORS (a total of $25 in discounts).
DXO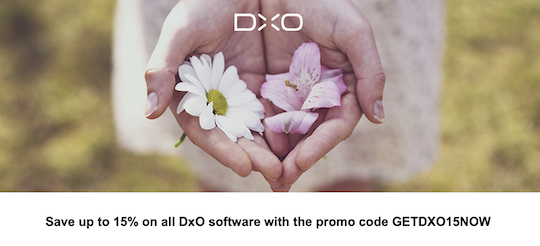 Ending next week: 15% off all xO software with code GETDXO15NOW (including NIK Collection 2 and DxO PhotoLab).
Franzis

The German Franzis Photographer's Projects Collection is on sale for $39 (original price: $276, 86% off).



Get 10% off Exposure X5 with promo code NIKONRUMORS.