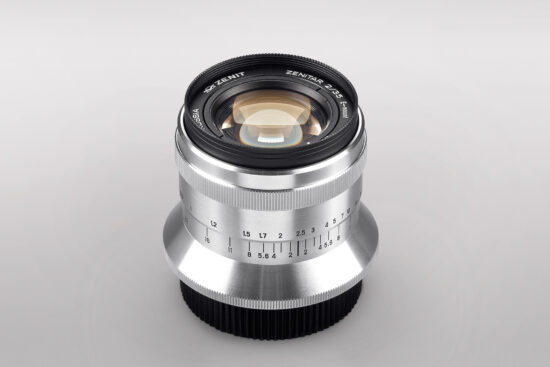 The previously rumored/leaked new Zenit Zenitar 35mm f/2 lens for Sony E-mount is now officially announced. US pricing and availability is not yet released (Zenit lenses are sold at the official Zenit US website and at B&H). Here is the translated press release:
Update: This lens has 9 aperture blades, 7 elements in 5 groups, manual focus and manual aperture, and weighs under 240grams. It's one of the 7 lenses in the 2020 Zenit roadmap.
Shvabe will present a new photo lens for full-frame mirrorless cameras

Krasnogorsk plant them. S. A. Zvereva of Shvabe Holding is preparing to release a wide-angle Zenitar-12 lens with a Sony E-mount. The novelty will be appreciated by the owners of the cameras of the same name.

The manual lens "Zenitar-12" is quite compact. It is designed for Sony mirrorless cameras, which looks very tiny in comparison. Currently, there are no such lenses for such cameras, since the optics of the closest competitors are installed through adapters.

The novelty has a focal length of 35 mm and aperture f / 2.0. Simultaneously small dimensions and high resolution are its main advantages. Zenitar-12 is perfect for artistic landscape photography, including architecture and large groups of people, even in limited space. The lens will complement the line of equipment under the Zenith brand of the Krasnogorsk plant named after S. A. Zvereva Holding.

"The lens is made from 100% domestic components. Today it is presented in the E-mount version, but in the future we plan to release versions for other mirrorless cameras. Zenitar-12 will appear on the Russian market in mid-October, "said Ivan Ozhgikhin, Deputy General Director of Shvabe.

The lens will be presented at the Photoforum International Exhibition. The event will take place from 8 to 10 October at the Moscow Crocus Expo.