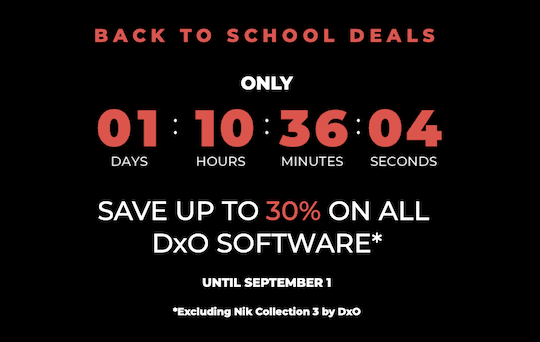 The currently ongoing up to 30% DxO sale is ending tomorrow. This sale is valid for both new purchases and upgrades of DxO Photolab, DxO Viewpoint, and DxO Filmpack (Nik Collection not included):
DxO PHOTOLAB 3 ADVANCED PHOTO EDITING
Automatically correct optical defects in your images, improve their dynamic range, and remove digital noise without losing any details.
Regular: €129, sale: €99.99
Upgrade: €89, sale €69.99
DxO FILMPACK 5 CREATIVE AND ANALOG FILM RENDERING SOFTWARE
Rediscover the style, colors, and grain of iconic films that have been carefully recreated through DxO's exclusive calibration process.
Regular: €79, sale: €49.99
Upgrade: €69, sale: €49.99
DxO VIEWPOINT 3 FULLY CONTROL THE GEOMETRY IN YOUR IMAGES
Automatically correct perspective distortion and restore subjects on the edges of the frame to their natural shape with just one click.
Regular: €79, sale: €49.99
Upgrade: €49, sale: €34.99